Taxotere Lawsuit Investigation Launched by Bernstein Liebhard LLP, As Cases Alleging Permanent Hair Loss Begin to Mount in U.S. Courts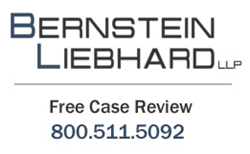 March 16, 2016 - Taxotere lawsuits (
http://www.rxinjuryhelp.com/taxotere/lawsuit/
) are now being investigated by Bernstein Liebhard LLP on behalf of patients who allegedly suffered permanent alopecia (hair loss) due to the chemotherapy medication. Court documents indicate that a number of product liability claims have been filed in recent months by plaintiffs who accuse Sanofi-Aventis of failing to warn that Taxotere is more likely to cause permanent hair loss than other, equally effective chemotherapy treatments.
"Since it was brought to market in 1996, millions of patients have undergone Taxotere chemotherapy to treat breast cancer and other malignancies. Yet mention of permanent alopecia was only added to the drug's label late last year," says Sandy A. Liebhard, a partner at Bernstein Liebhard LLP, a nationwide law firm representing victims of defective medical devices and drugs. The Firm is now offering free legal evaluations to breast cancer patients and others whose hair failed to grow back following chemotherapy with Taxotere.
Taxotere Hair Loss Litigation
Taxotere (docetaxel) was approved by the U.S. Food & Drug Administration (FDA) in 1996 to treat breast cancer. Its approved indications have since been expanded to include head and neck cancer, gastric cancer, prostate cancer and non-small cell lung cancer. In December 2015, the
FDA announced
that the Adverse Events section of the Taxotere label would be modified to note that cases of permanent alopecia had been reported.
Court records indicate that one of the most recent Taxotere lawsuits was filed on March 10th in the U.S. District Court, Northern District of Illinois. According to the complaint, the plaintiff underwent Taxotere chemotherapy following a mastectomy in February 2005, and has since experienced on-going and permanent hair loss. (Case: 1:16-cv-03038). In January, another breast cancer survivor filed a similar lawsuit in the U.S. District Court, Northern District of Ohio. The plaintiff claims that she was left permanently bald following treatment with Taxotere in 2004. (Case: 1:16-cv-00165)
Both plaintiffs claim that they were led to believe that the alopecia resulting from their cancer treatments would be temporary. The complaints also assert that Sanofi-Aventis advised physicians, patients, and regulatory agencies in other countries, including the European Union and Canada, that Taxotere causes an increased risk of permanent disfiguring hair loss. However, the Defendants allegedly chose to withhold this information in the U.S. The lawsuits further charge that current Taxotere warnings continue to vaguely and misleadingly indicate that "hair generally grows back" after use of the drug.
Cancer patients who allegedly experienced permanent baldness following Taxotere chemotherapy may be entitled to compensation for their emotional distress and other damages.
To learn more
about Taxotere lawsuits, please visit Bernstein Liebhard LLP's website, or call 800-511-5092 to arrange for a free, no obligation case review.
About Bernstein Liebhard LLP
Bernstein Liebhard LLP is a New York-based law firm exclusively representing injured persons in complex individual and class action lawsuits nationwide since 1993. As a national law firm, Bernstein Liebhard LLP possesses all of the legal and financial resources required to successfully challenge billion dollar pharmaceutical and medical device companies. As a result, our attorneys and legal staff have been able to recover more than $3.5 billion on behalf of our clients. Bernstein Liebhard LLP is honored to once again be named to The National Law Journal's "Plaintiffs' Hot List," recognizing the top plaintiffs firms in the country. This year's nomination marks the thirteenth year the firm has been named to this prestigious annual list.
Bernstein Liebhard LLP
10 East 40th Street
New York, New York 10016
800-511-5092
ATTORNEY ADVERTISING. © 2016 Bernstein Liebhard LLP. The law firm responsible for this advertisement is Bernstein Liebhard LLP, 10 East 40th Street, New York, New York 10016, 800-511-5092. Prior results do not guarantee or predict a similar outcome with respect to any future matter.
Contact Information:
Sandy A. Liebhard, Esq.
Bernstein Liebhard LLP
info (at)consumerinjurylawyers(dot)com
http://www.rxinjuryhelp.com/
https://plus.google.com/115936073311125306742?rel=author