HTML-Based Landing Page Templates Facilitate Web-Development Up To 5 Times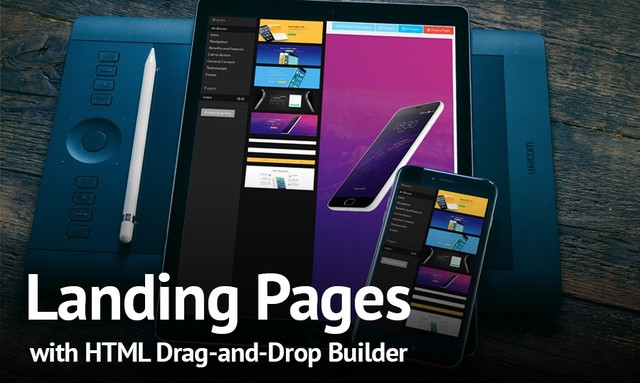 Brooklyn, New York, March 25, 2016 - TemplateMonster has rolled out
Landing Page Templates
with HTML Builder. These templates can be useful for end-users who lack HTML or CSS knowledge and for professional developers. Initial tests report that new templates speed up the process of website development and reduce the workflow duration by up to 5 times.
Facts about landing pages:
Getting landing pages built and tested is one of the top five challenges faced by B2B marketers (MarketingExperiments.com)
Long-scroll landing pages can generate up to 220% more leads than above-the-fold call-to-actions (MarketingExperiments.com)
President Obama's web team raised additional $60 million donations using A/B testing (Source)
Only 52% of companies and agencies that use landing pages also test them to find ways to improve conversions (MarketingExperiments.com)
Only 48% of marketers build a new landing page for each marketing campaign (MarketingExperiments.com)
Landing Pages with HTML Builder for inexperienced users
New templates provide a simple tool that helps beginners craft promotional landing pages. During the first tests with inexperienced users, landing pages were ready just in 30 minutes.
"According to several studies, building and testing landing pages is one of the top five challenges faced by B2B marketers. For inexperienced users, this process is way more complex. Today, we've launched a new product line that facilitates the development of landing pages. We strived to make the process as simple for end users as editing text documents. With our new templates, even your grandma with creative approach can make a landing page in just a half an hour", says
Demetrio Fortman, COO at TemplateMonster.
Landing Pages with HTML Builder for professionals
This new tool gives professional web developers the opportunity to speed up the creation of marketing campaigns, quickly test different promo ideas and perform different A/B tests to attract additional traffic and leads.
"With these new landing page templates, web developers and web marketers can dramatically increase the number of clients, as well as their profits. Why? Because with this new tool, they will be able to test many different ideas, designs, and media. Just like the team of president Obama used A/B tests on their campaign's landing page and raised extra $60 million. What's holding you back from beating or, at least, approaching their record?", noted the company's spokesperson.
The process of customization is simple: users drag and drop pre-defined blocks onto the blank canvas, add and edit content - links, texts, images, videos, icons, titles, and so on - without any HTML- or CSS-coding. All predefined blocks on the canvas can be edited individually or in bulk similarly to any text editor. There isn't ordinary admin panel in – the customization process takes place on the template canvas on the fly.
New
landing page templates
are built with HTML, CSS, JavaScript, and a single PHP file to export the created markups. The tool also makes use of flat UI pro kit to help users design clean layouts.