OpenArc Outlines Why CMS Will Continue to Dominate the Web in New Slideshow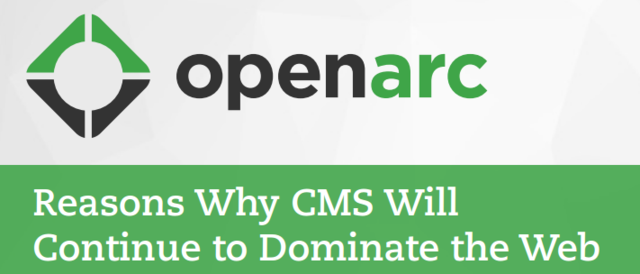 March 24, 2016 - Content management systems serve as the backbone of countless websites, and it's easy to see why. Enabling people to write, edit and publish content quickly and painlessly is a huge plus. However, it's not the only advantage that a superior CMS platform provides. Discover all the reasons why CMS platforms are here to stay with help from OpenArc.
With an effective CMS solution in place, you have the freedom to offer superior flexibility to your team, substantially boosting efficiency through a variety of features.
Perhaps the biggest boost comes with the ability to easily update the content on your site. The latest CMSs are becoming full packages, rather than just simple publishing tools – giving users easy access to control the software, the visual design and the final product of their websites. The result is content creators having complete control over how they engage and interact with their audiences.
Once you have all the content up on your site, you'll need to promote it if you really want to see results. Modern CMS solutions have streamlined the social sharing features, allowing content creators to ensure that the content they create is being pushed out through social media channels, newsletter databases, and other enterprise applications.
With the death of the desktop computer seeming increasingly inevitable, mobile is a necessity for any organization. New CMS solutions offer marketers new levels of accessibility and usability, ensuring that customers on any device can easily digest your website's content.
Delivering targeted and timely content to different segments of your audience will be one of the most significant trends of 2016. A new CMS with marketing automation capabilities will position your team to better market their content towards targeted personas, all while charting ideal visitor journeys through your website.
Experts predict that CMSs will continue to expand and dominate web publishing for several years to come, so don't let your team fall behind the times. Stay up to date with the latest CMS and web publishing trends by visiting
https://www.openarc.net/our-blog/openarc-101-content-management-systems
.
Make sure your website has everything it needs to take off and soar to new heights with customized software solutions from OpenArc. Since 2010, OpenArc has specialized in providing talent, strategy and software development to create innovative technology solutions that enable client strategies. Discover how OpenArc puts exceptional customer service, technological expertise, and high sense of integrity to work by visiting
www.openarc.net
.