Farming Innovations: Koolfog Fog Systems in Shade Houses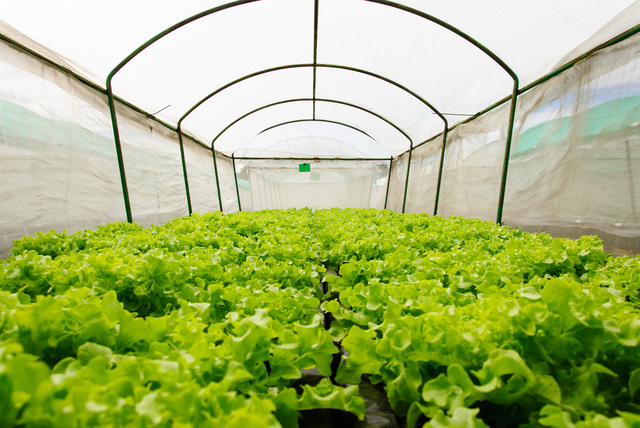 March 27, 2016 - Innovation in farming is a constant ambition as farmers try to extend the growing season. One new technique in next gen farming is shade house farming. Shade houses use various densities of mesh or netting rather than glass or transparent material to help control extreme sunlight during the warmer months. However, as shade alone does not control the heat and aridity in the structure, some farmers are also experimenting with fog systems in shade houses to control temperature.
Each plant has different requirements for sunlight and humidity that help it flourish as it grows. As the summer season progresses, too much direct sunlight can be detrimental to plants. A shade house can provide a more ideal amount of sunlight on the plants. However, farmers have found that temperatures in the enclosed structure can become too warm for the plants to thrive. Installing fog systems in shade houses can make a significant difference. This technique is relatively new and not a lot of data is available, but anecdotal evidence shows that fog systems in shade houses can be very effective in creating a microclimate conducive to plant growth. One report suggested that use of a fog system decreased temperatures by 20 degrees Fahrenheit while maintaining desirable humidity levels.
Other sources report that some growers who experimented with fog systems in shade houses have had difficulty finding the best combination of pressure and nozzle diameter to produce a dry fog rather than wet mist. Too much moisture can create other problems for the crops, so creating the appropriate humidity, without excessive condensation is vital.
For more than two decades Koolfog has designed and developed fog technologies and has extensive experience providing custom systems that control the humidity levels and moisture in various environments. We can provide fog systems and sensors of any size and have worked extensively in large-scale industries to tailor systems to the space as required. Farming innovation is of particular interest and we are working to further refine the possibilities to provide effective fog systems in shade house environments.
About Koolfog
Koolfog specializes in enhancing outdoor environments, making them more comfortable, functional and sensible using outdoor cooling and humidification solutions, scenting systems, fog effects systems and outdoor heaters. For over two decades Koolfog has designed and developed sensory technologies that provide enhanced comfort and enjoyment for people, plants and animals. Koolfog is in use by restaurants, resorts, wineries, retail centers, theme parks, recreational spaces, fire, military and search and rescue training, equestrian facilities, dairies, greenhouses and private estates. Through creative design and innovation, Koolfog balances performance and aesthetics by delivering products that seamlessly integrate into landscapes and architectural spaces. Koolfog products are available worldwide through direct sales and distribution. For more information:
koolfog.com
.