IVC Filter Lawsuit Update: Bernstein Liebhard LLP Comments on Study Linking Unretrieved Blood Clot Filters to IVC Thrombosis Risk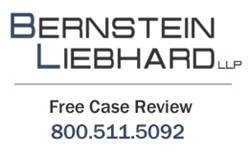 March 28, 2016 - As IVC filter lawsuits (
http://www.rxinjuryhelp.com/ivc-filter/lawsuit/
) continue to mount in courts throughout the U.S., Bernstein Liebhard LLP notes that a newly-published study has tied an increase in inferior vena cava (IVC) thrombosis to unretrieved filters. According to the research, which was published last month in
JACC: Cardiovascular Interventions
, these dangerous blood clots account for 2.6% to 4.0% of all deep venous thrombosis cases. However, the authors of the report warned that the true incidence may be underestimated, due in part to the exponential increase in the number of unretrieved IVC filters among U.S. patients. They further noted that if left untreated, IVC filter thrombosis can lead to post-thrombotic syndrome in up to 90% of patients, venous claudication in 45%, pulmonary embolism in 30%, and venous ulceration in 15%. In light of these significant risks, the investigators recommended that doctors plan to remove IVC filters as soon as medically possible.
"Hundreds of IVC filter lawsuits are currently making their way through U.S. courts, all of which were filed on behalf of patients who allegedly suffered thrombosis and other complications due to the types of retrievable filters discussed in this report. Among other things, plaintiffs claim that the manufacturers of these devices failed to adequately inform doctors about the importance of IVC filter retrieval," says Sandy A. Liebhard LLP, a partner at Bernstein Liebhard LLP, a nationwide law firm representing victims of defective drugs and medical devices. The Firm is currently evaluating IVC filter lawsuits on behalf of individuals who may have been seriously injured by these products.
Bard and Cook Medical IVC Filter Litigation
IVC filters are implanted into the inferior vena cava, where the small, wire devices intercept blood clots before they can travel to the heart and lungs. The products are indicated for the prevention of pulmonary embolism in patients who cannot use standard blood thinning medications. Retrievable IVC filters are intended to be removed once an individual is no longer at risk for pulmonary embolism. However, in April 2013, a report published in JAMA: Internal Medicine suggested that the devices were successfully removed in fewer than 10% of patients.
Court documents indicate that more than 280 IVC filter lawsuits involving Cook Medical, Inc.'s Celect and Gunther Tulip devices have been filed in a multidistrict litigation currently underway in the U.S. District Court, Southern District of Indiana. An additional 93 claims involving C.R. Bard's Recovery and G2 IVC filters are pending in a second centralized proceeding that has been established in the in the U.S. District Court, District of Arizona. All of these complaints allege that the companies' retrievable blood clot filters are associated with high rates of fracture, migration and tilting, which may result in perforation of the inferior vena cava, embolization and other life-threatening complications. (Cook Medical, Inc., IVC Filters Marketing, Sales Practices and Products Liability Litigation – MDL 2570; In Re: Bard IVC Filters Products Liability Litigation – MDL No. 2641)
Individuals who allegedly experienced serious complications due to Cook or Bard IVC filters may be entitled to compensation for medical bills, lost wages, pain and suffering, and more.
To learn more
about filing an IVC filter lawsuit, please visit Bernstein Liebhard LLP's website. Free, no-obligation legal consultations can also be obtained by calling 800-511-5092.
About Bernstein Liebhard LLP
Bernstein Liebhard LLP is a New York-based law firm exclusively representing injured persons in complex individual and class action lawsuits nationwide since 1993. As a national law firm, Bernstein Liebhard LLP possesses all of the legal and financial resources required to successfully challenge billion dollar pharmaceutical and medical device companies. As a result, our attorneys and legal staff have been able to recover more than $3.5 billion on behalf of our clients. Bernstein Liebhard LLP is honored to once again be named to The National Law Journal's "Plaintiffs' Hot List," recognizing the top plaintiffs firms in the country. This year's nomination marks the thirteenth year the firm has been named to this prestigious annual list.
Bernstein Liebhard LLP
10 East 40th Street
New York, New York 10016
800-511-5092
ATTORNEY ADVERTISING. © 2016 Bernstein Liebhard LLP. The law firm responsible for this advertisement is Bernstein Liebhard LLP, 10 East 40th Street, New York, New York 10016, 800-511-5092. Prior results do not guarantee or predict a similar outcome with respect to any future matter.
Contact Information:
Sandy A. Liebhard, Esq.
Bernstein Liebhard LLP
info (at)consumerinjurylawyers(dot)com
http://www.rxinjuryhelp.com/
https://plus.google.com/115936073311125306742?rel=author