Louisville Sports Medicine Doctor and Orthopedic Surgeon Stacie Grossfeld Speaks at Award Breakfast Hosted by National Association of Women Business Owners (NAWBO)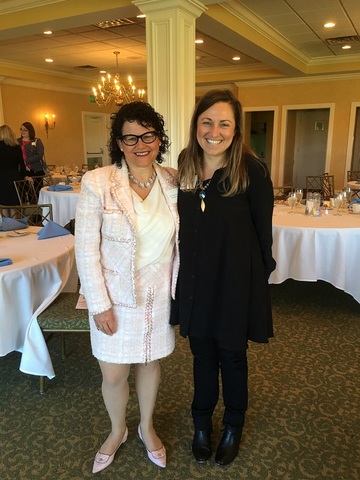 April 1, 2016 - On Tuesday, March 29, 2016, the Louisville Chapter of the National Association of Women Business Owners (NAWBO) celebrated the 2016 Epic Award Winners with a breakfast event at Big Springs Country Club in Louisville, Kentucky. These annual awards recognize local female business owners in six categories. Dr. Stacie Grossfeld, a Louisville-area
orthopedic surgeon
and sports medicine physician, was honored to be one of the six award recipients, and a speaker at the event.
Two NAWBO award winners were asked to speak at this special breakfast event: Small Business of the Year Award Winner
Dr. Stacie Grossfeld
(owner of Orthopaedic Specialists) and Large Business Owner of the Year Award Winner Summer Auerbach (owner of Rainbow Blossom natural health food stores).
Both
NAWBO
award winners were instructed to speak about their experiences as a female business owners. As owner of Orthopaedic Specialists, a medical practice specializing in orthopedic surgery and sports medicine, Dr. Grossfeld has defied the odds in medicine, growing a successful business while many physicians turn to large hospital conglomerates for gainful employment.
Dr. Grossfeld kicked off her speech by talking about the many things that she had learned as an orthopedic surgery resident in a primarily male-dominated field. Only five percent of orthopedic specialists in the U.S. are women. With this gender disparity in the field of medicine, Dr. Grossfeld explained some of the challenges she faced entering this field. She discussed how it was often difficult for her to find surgical instruments to fit a smaller hand and she often had to use two stepstools to reach the patient on the operating table.
Despite these obstacles, Dr. Grossfeld went on to become a distinguished
orthopedic surgeon
in Louisville, Kentucky. As a small business owner, Dr. Grossfeld believes in creating a positive work environment for her employees. She explained that her workplace philosophy revolves around creating and maintaining a welcoming environment that can be described as a village. Dr. Grossfeld is full of gratitude when she sees how her employees have a vested interest in their positions and in their interactions with the patients.
Before patients shake Dr. Grossfeld's hand, they have already had contact with four different employees at Orthopaedic Specialists. Dr. Grossfeld explained how all of these interactions are working to create a positive experience for every patient. She understands what it is like to be a working mother and creating that work life balance, stating in her speech: "We all change our hats when we come from working gal to mom." This understanding is beneficial for Dr. Grossfeld's role as a female business owner working with female employees.
In the conclusion of her speech, Dr. Grossfeld expressed the importance of established women working to mentor young female professionals. She explained that in 2015, only four percent of
Fortune 500
companies had a female CEO. Dr. Grossfeld feels that the only way to change this and improve that large disparity is by providing guidance and mentoring to the upcoming generations of female leaders.
In her own work and practice, Dr. Grossfeld provides many mentorship opportunities to women at different stages in their careers. She offers student internships to high school and college students interested in exploring a career in medicine. And she also serves as a mentor and teacher to many medical professionals interested in learning more about orthopedics and sports medicine.
Over the years Dr. Grossfeld has served as the
team physician
for a number of women's sports programs including the Kentucky Karma Women's Football Team, the U of L Women's Soccer and Lacrosse teams, Assumption High School, Presentation Academy, and others.
Dr. Grossfeld has also been recognized by other organizations as a leader for women in medicine including the Kentucky Women's Physicians Association and the recipient of the Tower Award for Women Leaders in Science and Medicine. She's been a member of the Ruth Jackson Society since 1997 (an International Society for Women Orthopaedic Surgeons) and she is past President of the International Women's Orthopaedic Society.
About the National Association of Women Business Owners
Founded more than four decades ago, the National Association of Women Business Owners (NAWBO) represents all types of women-owned business across the United States. The organization has over 60 chapters and more than 5,000 members. This year, NAWBO Louisville celebrated more than two decades of commitment to women business owners in the Louisville community. NAWBO Louisville is located at 614 W. Main Street, Suite 6000, in Louisville, Kentucky, was founded in 1992. The diverse member base spans across the state to include women business owners in Bowling Green, Kentucky and Cincinnati, Ohio. For more info about NAWBO Louisville, email:
director@nawbolouisville.org
or call 502-625-0248.
About Orthopaedic Specialists
Orthopaedic Specialists is an orthopedic and sports medicine practice in Louisville, Kentucky with offices in St. Matthews and Jeffersontown Kentucky. Practice owner Dr. Stacie Grossfeld specializes in many aspects of
orthopedic
and
sports medicine
including: shoulder and knee repair, foot and ankle injuries, elbow, hand and wrist injuries, arthritis and osteoarthritis, sports injuries, hip injuries and more. For additional information or to schedule an appointment, please call 502-212-2663 today.
Email Orthopaedic Specialists PLLC