HVAC Brain Carries Replacement Parts for Carrier Water Source Heat Pumps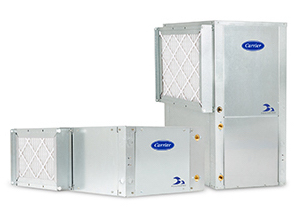 April 6, 2016 - HVAC Brain, Inc. (
www.hvacbrain.com
), retailer of HVAC/R equipment and replacement parts, has added
Carrier water source heat pump replacement parts
to their expansive online selection of HVAC equipment and replacement parts. For a limited time, HVAC Brain customers will receive free shipping within the USA on all carrier part orders.
Carrier is a world-renowned manufacturer of HVAC equipment. Their innovative water source heat pumps provide economical options for space heating and cooling. Carrier's water source heat pumps offer versatility in applications including geothermal and traditional heat pump replacements and new installations. HVAC Brain has made available an expansive selection of quality OEM replacement parts for use with Carrier water source heat pumps.
The addition of replacement water source heat pump parts by Carrier expands HVAC Brain's vast selection of Carrier replacement parts. With HVAC Brain, contractors and facility managers have access to a broad range of replacement parts for any project.
HVAC Brain is proud to offer Carrier water source heat pump replacement parts at competitive pricing. Every order is shipped quickly, and customers have access to superior technical support from HVAC Brain. To view HVAC Brain's complete online inventory of Carrier replacement parts for water source heat pumps, please visit
http://www.hvacbrain.com/Carrier-Water-Source-Heat-Pump-Parts-s/5165.htm
.
Why shop at HVACbrain.com:
HVAC Brain, Inc. is a fast growing retailer of HVAC/R equipment and replacement parts. At HVACbrain.com, HVAC professionals and maintenance managers can find a wide variety of 'hand-picked' high quality HVAC products such as air conditioning units, actuators and valves, compressors, motors, and coils. With HVAC Brain's tight vendor relationships, customers can choose and order products without worrying about the quality of products HVAC Brain offers.
Contact Info: HVAC Brain, Inc. 9545 Midwest Avenue, Unit A - Cleveland, Ohio 44125, 216-663-4822,
info@hvacbrain.com
.