Shop Insurance Canada Ready to Help Customers Understand Ontario Auto Insurance Reforms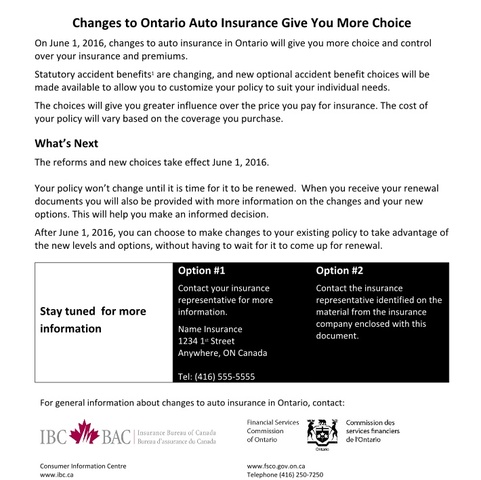 April 9, 2016 – Insurance industry expert Shop Insurance Canada (ShopInsuranceCanada.ca) says the amount of changes being made to the auto insurance industry in Ontario is daunting. The company is working with customers to make understanding the reforms easier, detailing each aspect of the changes announced by the Financial Services Commission of Ontario (FSCO).
The provincial government in Ontario says the auto insurance reforms are being introduced in a bid to combat spiraling premium costs in Canada's most populated region. Ontario is home to the highest car insurance rates in the nation, says Shop Insurance Canada, with customers having to pay over $1,500 on average to purchase a policy.
The government has attempted various programs to lower premiums and drew criticism last year when it failed to cut auto insurance rates by 15 per cent, as was promised in 2013. Failures aside, the FSCO says that the new reforms will "give you more choice over the coverages you select and the price you pay for auto insurance".
The changes are sweeping and include substantial
changes to Statutory Accident Benefits
from injuries incurred while in an auto accident. The government says it wants to customers to have more choice when building an auto insurance policy, offering a near customization process of benefits and policy options that consumers can opt for when seeking coverage.
In an attempt to prepare the insurance industry and consumers for the changes, the FSCO has sent out two publications. The Commission is leading its public awareness program with an early awareness mailer that is titled "Changes to Ontario Auto Insurance Give You More Choice (
Early Awareness mailer
)". It is being sent out to all policyholders. The mail will inform customers of the changes and that they will be able to get full information about the auto insurance reform upon renewal.
Shop Insurance Canada urges all customers to
pay attention to the mailer
and to prepare for more information to be released. The FSCO says that it will introduce more details to customers and that on and from June 1, 2016 they will be able to renew or take out a new policy with the reforms in mind.
In an effort to make the transition smoother for customers, Shop Insurance Canada is offering its expert services. The company can provide guidance for all those looking into renewing or taking out a policy, including finding the very best coverage based on affordability and value for money. With big changes coming to the market, Shop Insurance Canada's brokers can help customers understand the reforms and make the most of them.
Customers can contact
Shop Insurance Canada
online, or call on 416-913-0151
About Shop Insurance Canada
Shop Insurance Canada is a Toronto based company that specializes in delivering the best auto insurance products to customers around Ontario and Canada. The
online Ontario car insurance quoting tool
uses an engine that is easy to use and accurate enough to deliver the best auto insurance quotes
Email Shop Insurance Canada