Shop Insurance Canada Explains if Ontario Auto Insurance Reforms are good for Customers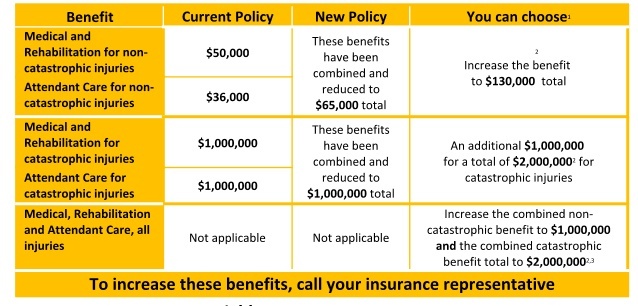 Apr 13, 2015 – Huge changes are afoot in the Ontarian auto insurance market as the government has detailed its plans to reform the industry, starting June 1, 2016. Shop Insurance Canada, a leading expert in the industry, says the reforms are designed to make premiums more affordable in Ontario, but the result may not necessarily be a better overall deal for customers.
The Financial Services Commission of Ontario (FSCO) has sent out
two publications
to prepare consumers for auto insurance reforms that will be implemented on June 1. The governmental organization says the changes are designed to combat Ontario's excessively high car insurance premiums, giving customers more choice and a more affordable solution.
Shop Insurance Canada (ShopInsuranceCanada.ca), a company that specializes in finding customers the best insurance deals, says that premiums in Ontario are currently standing about $1,500 on average. The company adds that the average rate is comfortably the highest in Canada, and in some cases is 40% more expensive than other provinces.
After studying the upcoming
Ontario auto insurance reforms
, Shop Insurance Canada says that some of the changes can be praised, but others are cause for concern.
The most worrying reform is an overhaul of Statutory Accident Benefits from injuries incurred while in an auto accident, changes that were first revealed last year. While SIC says the new rules will clear up a law that often confused customers, the reforms will actually leave policyholders worse off.
Auto Insurance Changes
"The former law meant that any payout to a victim from suing an at-fault driver for injury would be subject to a $30,000 deductible if the awarded amount was less than $100,000," said Shop Insurance Canada in a news item
published last September
.
"There has always been an issue with this law simply because the deductible was an entirely arbitrary figure and was seen as a way to just take money from victims, sending it right back to car insurance companies.
It meant that a payout of $50,000 to a victim awarded by a judge would result in the insurance provider of the at-fault driver only paying $20,000 after the deductible was removed. Across the board, both now and before, the deductible rule has been kept very quiet, so much so that most drivers do not know about it. More importantly, jurors are also largely unaware as car insurance companies keep the law an almost inside secret in fear payouts would be increased.
The situation has now been made wholly worse by the new regulations announced by the Ontario government last month. Now the deductible has been raised to $36,540, so that $50,000 awarded payout from a jury would result in a $13,460 payout by the insurance company. Victims are being hit further as Ontario has also raised the minimum threshold for the deductible from $100,000 to $121,799."
Other reforms coming into effect on June 1, 2016 will be more rewarding to customers, says the company. The Ontario liberal government is living up to its promise of offering more choice and customizations within a policy, while also potentially lowering costs.
Under certain criteria (no payment by insurer, no injuries, damages less than $2,000), insurance providers can no longer raise premiums after minor at-fault accidents.
The mandatory amount for monthly premium payments has been lowered to 3% to 1.3% maximum for policies of one year.
Comprehensive auto insurance coverage will now have a standard deductible of $500 (previously $300).
Non-earner benefits can be received up to two years after an accident. Six month waiting period for out of work customers reduced from six months to four weeks.
Standard benefit for medical rehabilitation and attendant care is now five years for non-catastrophic injuries, children excluded.
For further information regarding the changes, customers can contact Shop Insurance Canada and talk with our expert brokers about finding the best policy. Whether renewing or taking out new coverage, our online quote tool delivers the best possible policy at the best possible price. With changes coming, we can help you understand how to make the most of your auto insurance and find the most value for money.
Customers can contact
Shop Insurance Canada
online, or call on 416-913-0151
About Shop Insurance Canada
Shop Insurance Canada is a Toronto based company that specializes in delivering the best auto insurance products to customers around Ontario and Canada. The
online car insurance quoting tool
uses an engine that is easy to use and accurate enough to deliver the best auto insurance quotes from over
Email Shop Insurance Canada