Frontline Source Group, Fort Worth Temporary Agency, volunteers with HOPE Farm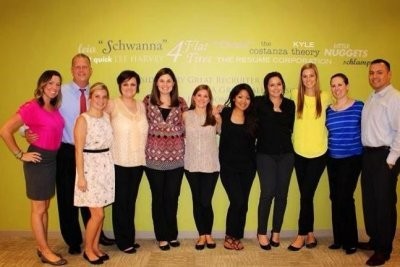 May 24, 2016 - Frontline Source Group,
Fort Worth temporary agency
, volunteers with HOPE Farm. Several employees from the Fort Worth Frontline office have committed to volunteer their time and talents with the HOPE Farm in Fort Worth during the 2016 year.
"We are thrilled to work with such a great organization," said Bill Kasko, President & CEO. "We believe whole-heartedly in the work they do and we are very proud that our team wants to volunteer. I am sure our employees will get as much out of their time with HOPE Farm as the young men they are supporting."
About HOPE Farm
- The mission of HOPE Farm is a leadership program guiding at-risk boys to become Christ-centered men of integrity. HOPE (Helping Other People Excel) Farm is a 501 (c) (3) non-profit organization. It was founded in December, 1990 by former Fort Worth police officer Gary Randle and former Department of Public Safety investigator Noble Crawford, Jr. HOPE Farm has two campuses in Ft. Worth, Texas, which provide a variety of activities for inner city boys.
HOPE Farm
work daily with each child's mother/caretaker and teachers in order to maintain accountability and consistency. Recognizing the importance of a collective effort, HOPE Farm has a partnership parenting curriculum known as Parent Involvement Program (PIP). It assists the parents of HOPE Farm boys with spiritual development, inspirational encouragement and provides structural tools to help them partner with HOPE Farm
About Frontline Source Group
- Established in 2004, Frontline was recently named Best of Staffing 2016 in both Client Satisfaction and Talent Satisfaction. Frontline Source Group was also named to the Inc. 500/5000 List in 2013, 2014 and 2015 and named by Southern Methodist University (SMU) #76 as part of the Dallas 100.
Frontline Source Group
specializes in matching top talented professional candidates with companies for temporary, temp to hire and direct hire placement positions primarily in the Accounting, Finance, Information Technology, Administrative, Customer Service, Human Resources, Healthcare, Nurse Staffing, Engineering, and Oil & Gas industries.
Current Office Locations include, Texas: Dallas, Fort Worth, Arlington, Lewisville, Austin, Plano, Irving, Frisco, Richardson, Houston Galleria, West Houston, Downtown Houston, Katy, San Antonio, Sugar Land, The Woodlands; Tennessee: Nashville, Brentwood; Colorado: Denver, Denver Tech Center; Oklahoma: Oklahoma City; Arizona: Phoenix, Scottsdale. Upcoming Locations: Chicago, Illinois – Corporate office: Downtown Dallas.
Email Frontline Source Group, Inc.