Levaquin Lawsuits, Other Fluoroquinolone Claims Move Forward as Federal Peripheral Neuropathy Litigation Convenes Conference, Bernstein Liebhard LLP Reports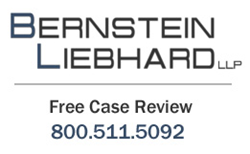 April 25, 2016 - Product liability lawsuits involving Levaquin, Cipro and Avelox continue to move forward in the U.S. District Court, District of Minnesota, where all federally-filed cases involving their alleged association with
peripheral neuropathy and permanent nerve damage
are currently undergoing coordinated pretrial proceedings. According to court documents, the litigation convened a Status Conference on April 21st, at which time a number of issues were addressed, including an initial case management plan and the scheduling of Science Day. A Joint Agenda for the conference also indicates that the parties discussed the establishment of a bellwether selection protocol, as well as the scheduling of bellwether trial dates. (In Re: Fluoroquinolone Products Liability Litigation – MDL No. 2642)
"Our Firm has heard from numerous individuals who now suffer from debilitating and permanent nerve damage, including peripheral neuropathy, allegedly due to their use of Levaquin, Cipro or Avelox. We are pleased that the federal litigation is moving forward, and anticipate more progress in the coming months," says Sandy A. Liebhard LLP, a partner at Bernstein Liebhard LLP, a nationwide law firm representing victims of defective drugs and medical devices. The Firm is offering free, no-obligation Levaquin lawsuit reviews to patients who may have been harmed by one of these antibiotics.
Fluoroquinolones and Peripheral Neuropathy
Levaquin, Cipro and Avelox all belong to a class of antibiotics called fluoroquinolones, which are used to treat a wide variety of bacterial infections. Nerve damage and peripheral neuropathy have been noted on the drugs' labels since 2004. However, in 2013, the
U.S. Food & Drug Administration (FDA)
ordered fluoroquinolone manufacturers to modify their product labels to note the possible rapid onset of symptoms, as well as the potential for permanence.
Court records indicate that at least 382 peripheral neuropathy lawsuits are currently pending in the District of Minnesota. All of the cases were filed on behalf of patients who developed permanent nerve damage allegedly related to the use of Levaquin, Cipro or Avelox. The drugs' manufacturers are accused of failing to provide the public with adequate warnings regarding these possible complications, with plaintiffs pointing out that research published in the
Annals of Pharmacotherapy
as early as 2001 suggested that such a link existed.
Users of Levaquin, Cipro or Avelox may be eligible to join this litigation if they were diagnosed with permanent peripheral neuropathy following treatment.
To learn more
, please visit Bernstein Liebhard LLP's website. Free, no-obligation legal consultations can also be obtained by calling 800-511-5092.
About Bernstein Liebhard LLP
Bernstein Liebhard LLP is a New York-based law firm exclusively representing injured persons in complex individual and class action lawsuits nationwide since 1993. As a national law firm, Bernstein Liebhard LLP possesses all of the legal and financial resources required to successfully challenge billion dollar pharmaceutical and medical device companies. As a result, our attorneys and legal staff have been able to recover more than $3.5 billion on behalf of our clients. Bernstein Liebhard LLP is honored to once again be named to The National Law Journal's "Plaintiffs' Hot List," recognizing the top plaintiffs firms in the country. This year's nomination marks the thirteenth year the firm has been named to this prestigious annual list.
Bernstein Liebhard LLP
10 East 40th Street
New York, New York 10016
800-511-5092
ATTORNEY ADVERTISING. © 2016 Bernstein Liebhard LLP. The law firm responsible for this advertisement is Bernstein Liebhard LLP, 10 East 40th Street, New York, New York 10016, 800-511-5092. Prior results do not guarantee or predict a similar outcome with respect to any future matter.
Contact Information:
Sandy A. Liebhard, Esq.
Bernstein Liebhard LLP
info (at)consumerinjurylawyers(dot)com
http://www.rxinjuryhelp.com/
https://plus.google.com/115936073311125306742?rel=author