Congratulations to Thomas Jefferson School of Law's Veterans Clinic Alumni Scholarship Recipients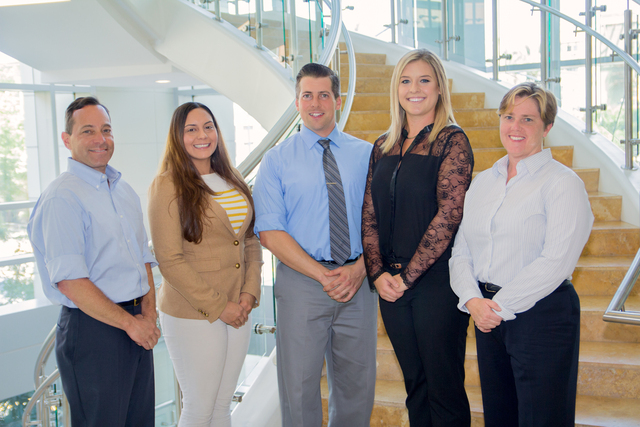 SAN DIEGO, CA, 4/29/16 – Today, Thomas Jefferson School of Law is proud to announce the recipients of the Veterans Clinic Alumni Scholarship for Spring semester 2016.
Veterans Clinic Alumni Scholarships are awarded to the most dedicated students serving the Thomas Jefferson School of Law Veterans Legal Assistance Clinic (TJVLAC). Scholarships are made possible by funds raised at the annual TJSL Alumni and Friends Golf Tournament. This semester's recipients include: Melissa Madrid (2L), Cashel White (2L) and Ryan White (2L).
"I'm exceptionally proud of these three students," said Thomas Jefferson School of Law Adjunct Professor Tiffany Gilmartin, who supervised the law students along with TJVLAC Director and Thomas Jefferson School of Law Professor Steven Berenson. "Cashel handled the clinic's first ever gender change, Melissa took a case to a bench trial against an experienced litigator, and Ryan secured the safe return of a child to his mother. Their professionalism and commitment to our veteran clients was impressive. Through their efforts each of them helped a veteran by unloading a legal burden that had held the veteran back."
Since 2006, TJVLAC has successfully provided limited legal assistance, as well as full service legal representation, to the residents and alumni of Veterans Village of San Diego – a highly successful, residential program that provides housing, substance abuse, mental health, and job training services to formerly homeless veterans struggling to regain full participation in society. Under the direction of Professor Steve Berenson, the clinic offers students valuable hands-on experience in handling a wide range of cases spanning family, consumer, and administrative laws.
Thomas Jefferson School of Law offers a comprehensive legal education to a nationally-based, diverse student body. The non-profit law school is consistently ranked as one of the most diverse law schools in the nation, with 52 percent of its most recent class being students of color. Located in Downtown San Diego, Thomas Jefferson Law has evolved into an innovative, cutting-edge law school, devoted to the individual needs and success of its students. More information is available at
www.tjsl.edu
.
CONTACT: Thomas Jefferson School of Law Director of Marketing and Communications Edgar Hopida, 619-961-4314 or 619-913-0719,
ehopida@tjsl.edu
Email Thomas Jefferson School of Law