MoneyBug releases artificial intelligence that calculates home values, provides cash offer instantly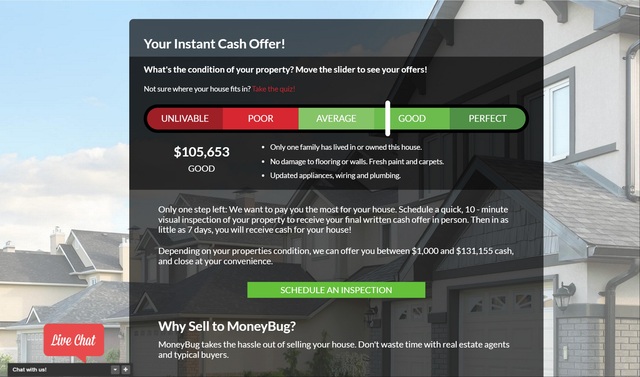 May 4, 2016 - Irving, Texas:
MoneyBug
, a nationwide home buying and property acquisitions company, has released cutting-edge technology that is breaking new ground in the realm of real estate. To achieve their goal of revolutionizing the real estate market, MoneyBug's unique patent-pending model has evolved to incorporate advanced algorithms and comprehensive data to bypass the need to communicate with a representative.
Since its founding in 2008, the Dallas-based company has expanded nationwide and facilitated the purchase of enough homes to equal over one-billion dollars in acquisitions. Now, MoneyBug has utilized the data from years of successful property acquisition to procure a massive database of existing property statistics. It is this track record analysis and years of input that allows MoneyBug to provide their clients what other cash-for-home companies cannot: a real cash offer that is provided instantly, just by typing in the homeowner's address.
With an established and successful history of acquisitions, MoneyBug possesses enough property data to calculate a computed offer that is delivered instantaneously.
MoneyBug's dedication to specialized data
has made their mission clear: for homeowners to sell their house through a process that is as simple as possible. Site visitors only have to enter their address and they receive a cash offer instantly. It is actually that simple, and it really is that fast.
Blake Long utilized MoneyBug to sell his home, and was impressed at the simplicity of the whole process. "I didn't want to deal with fixing things up, inspectors, or buyers negotiating back and forth," Long said. "I put in my address at MoneyBug's site and had a price literally in seconds. I didn't have to talk to a person until they brought me a contract to schedule the closing. I ended up with cash-in-hand before the month ended."
Many existing cash-for-home companies can seem disingenuous, but MoneyBug provides a professional buying process that is unprecedented. While other home buying companies also claim the ability to provide "instant cash offers," these types of offers are neither instant nor guaranteed. Unlike MoneyBug, these companies frequently require clients to fill out numerous online forms that frequently request detailed information about the home. The form is then forwarded to a buyer for the company, who completes manual research to calculate and determine the home's value. After a number of hours, sometimes even days, a representative will call the homeowner with their offer. With MoneyBug, all of this is completely bypassed. Site users enter their address and receive a cash offer. It's that simple.
MoneyBug stands alone against other cash-for-home companies, and delivers a simpler and faster and more stress-free experience of selling your home, as promised. Also to exceed client expectations, MoneyBug offers a "Highest Offer Guarantee" that ensures homeowners will receive prompt payment of the highest possible cash offer for their home. MoneyBug also buys houses in any condition, meaning sellers are not required to complete any repairs before the sale, thus eliminating the need for traditional services, such as realtors or MLS.