Talcum Powder Lawsuit Verdict: Johnson & Johnson Ordered to Pay $55 Million to Ovarian Cancer Victim, Bernstein Liebhard LLP Reports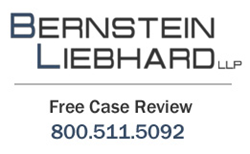 May 4, 2016 - Johnson & Johnson has lost yet another talcum powder lawsuit (
http://www.rxinjuryhelp.com/talcum-powder/lawsuit/
) involving the alleged link between its products and ovarian cancer. On May 2nd, a jury in St. Louis, Missouri, awarded $55 million to a woman who used Johnson & Johnson's Baby Powder and other talc-based powders for nearly 40 years as part of her feminine hygiene routine. According to court documents, jurors deliberated for 8 hours before assessing the company $5 million in compensatory damages and another $50 million in punitive damages. (Case No. 1422-CC09012-01, Circuit Court, St. Louis City, Missouri)
"Two Missouri juries have now found Johnson & Johnson negligent for failing to warn that its talcum powders might contribute to the development of ovarian cancer. The company faces more than 1,000 similar lawsuits in courts around the country, and while there are never any guarantees, the findings in these trials certainly give other plaintiffs reason for optimism," says Sandy A. Liebhard, a partner at Bernstein Liebhard LLP, a nationwide law firm representing victims of defective medical devices, drugs and consumer products. The Firm is offering free legal reviews to women who were diagnosed with ovarian cancer following years of regular, repeated use of talc-based products for feminine hygiene purposes.
Johnson & Johnson Talcum Powder Litigation
Court records indicate that dozens of talc powder ovarian cancer lawsuits involving Johnson & Johnson have been centralized in Missouri State Court. In February, another St. Louis jury awarded $72 million in compensatory and punitive damages to the family of a woman who died from ovarian cancer. Prior to her diagnosis, the decedent had regularly applied Baby Powder and Shower-to-Shower to the genital area for more than three decades(Case No. 1422-CC09012-01, Circuit Court, St. Louis City, Missouri)
According to a report from Bloomberg News, this latest case was chosen for trial by the defense, after plaintiffs had selected the first lawsuit. The most recent plaintiff had several risk factors for ovarian cancer, including endometriosis and a family history of cancer. Johnson & Johnson is facing another Missouri trial in September.
In October 2013, a South Dakota federal jury also found that Johnson & Johnson had failed to provide consumers with adequate warnings about the risk of ovarian cancer from talcum powder. However, the jury declined to award any damages to the plaintiff in that case. (U.S. District Court, District of South Dakota, Southern Division, Case No. 4:09-cv-04179-KES)
Women who were diagnosed with ovarian cancer following the long-term use of talc-based products for feminine hygiene purposes may be eligible to file their own talcum powder lawsuit.
To learn more
, please visit Bernstein Liebhard LLP's website, or call 800-511-5092 to arrange for a free, no obligation case review.
About Bernstein Liebhard LLP
Bernstein Liebhard LLP is a New York-based law firm exclusively representing injured persons in complex individual and class action lawsuits nationwide since 1993. As a national law firm, Bernstein Liebhard LLP possesses all of the legal and financial resources required to successfully challenge billion dollar pharmaceutical and medical device companies. As a result, our attorneys and legal staff have been able to recover more than $3.5 billion on behalf of our clients. Bernstein Liebhard LLP is honored to once again be named to The National Law Journal's "Plaintiffs' Hot List," recognizing the top plaintiffs firms in the country. This year's nomination marks the thirteenth year the firm has been named to this prestigious annual list.
Bernstein Liebhard LLP
10 East 40th Street
New York, New York 10016
800-511-5092
ATTORNEY ADVERTISING. © 2016 Bernstein Liebhard LLP. The law firm responsible for this advertisement is Bernstein Liebhard LLP, 10 East 40th Street, New York, New York 10016, 800-511-5092. Prior results do not guarantee or predict a similar outcome with respect to any future matter.
Contact Information:
Sandy A. Liebhard, Esq.
Bernstein Liebhard LLP
info (at)consumerinjurylawyers(dot)com
http://www.rxinjuryhelp.com/
https://plus.google.com/115936073311125306742?rel=author