Bob Moore Construction Breaks Ground on GM Financial's Regional Service Center in San Antonio, Texas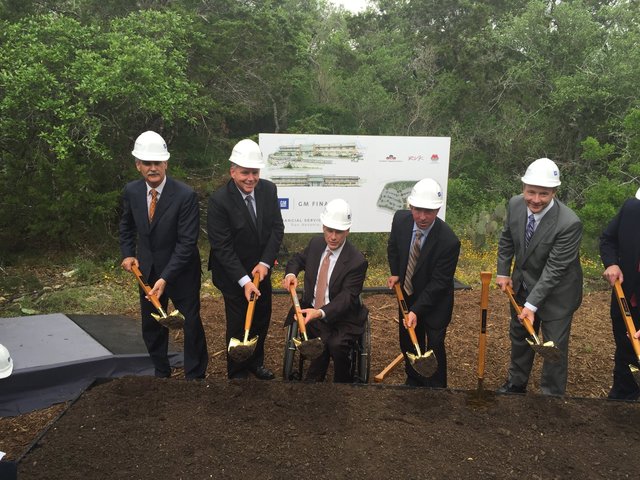 May 7, 2016 - Bob Moore Construction has broken ground on a new regional financial servicing center in San Antonio, Texas for GM Financial Credit, Inc.
The new servicing center is the fifth in North America for GM Financial. The call center will sustain the continued growth of GM Financial and its parent company, General Motors, servicing hundreds of thousands of customers all across the United States from its central US location.
The new facility is projected to create up to 700 jobs to San Antonio and potentially drive more than $300 million in total economic output in the first 10 years of operation. The project received a $2.5 million grant from the Texas Enterprise Fund, as well as tax incentives from the city of San Antonio and Bexar County.
A formal groundbreaking for the call center took place April 11, 2016 at the new building's location in the Westover Hills addition of San Antonio. Members of GM Financial's corporate leadership team, including CEO Dan Berce, were on hand for the event. Also in attendance were notable city, county and state officials and community leaders, including Texas Governor Greg Abbott.
"Texas' welcoming business climate of low taxes and low regulations has propelled the Lone Star State to be a leader in job creation," said Governor Abbott. "I am proud that GM Financial has chosen San Antonio as the site of its next financial servicing center, investing tens of millions of dollars in the Texas economy."
Bob Moore Construction is the general contractor for GM Financial's new service center. San Antonio's RVK Architects is the architect and Pape-Dawson Engineers, Inc. is the civil engineer.
The new building will include 100,000 SF of upscale office and call center facilities over two floors. The building will showcase dramatic interior and exterior finishes, a large employee cafeteria, significant telecommunications infrastructure and 720 parking spaces for employees and guests.
"We're very proud to be a part of the new GM Financial service center project," said Ed McGuire, President of Bob Moore Construction. "The project features a remarkable collaboration between local and state government and business participants, and will create remarkable new financial opportunities for San Antonio. This will be a tremendous opportunity for us to demonstrate our ability to deliver a superior quality office and call center facility as we help to expand the Texas economy."
The building is projected to go into operations in mid-2017.
For print sized photos visit
http://www.generalcontractor.com/photos/GM%20Financial/20160411%20-%20Groundbreaking/
About Bob Moore Construction
A recipient of the QUOIN / AGC General Contractor of the Year Award, the TEXO / AGC Summit Award for Construction Excellence and the Texas Building Branch-AGC Outstanding Construction Award, Bob Moore Construction has been one of the most respected commercial construction companies in Texas since 1946. An industry leader in tilt-up construction, the company was the first general contractor in the United States to be formally certified as a TCA Certified Company by the Tilt-up Concrete Association (TCA). Bob Moore Construction was also one of the first general contractors in North Texas to be accepted into the OSHA Local Partnership program in recognition of its superior safety program. The company's portfolio includes a wide range of commercial buildings, from warehouses and distribution centers to office buildings and retail stores. Whether it is providing general contractor, design / build or construction management services, Bob Moore Construction's goal remains the same: to deliver quality construction projects on time and in budget. Bob Moore Construction is a member of TEXO / Associated General Contractors of America, American Concrete Institute and a sustaining member of the TCA.
Contact:
Bob Moore Construction, Inc.
Jeff Schaefer Marketing Communications Manager
1110 North Watson Road
Arlington, Texas 76011
Phone: (817) 640-1200
Fax: (817) 640-1250
Email Bob Moore Construction