Unlock the Secrets to a Successful Enterprise Mobility Strategy with OpenArc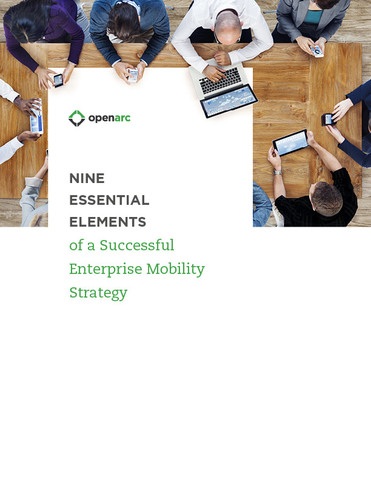 May 10, 2016 - Over the past decade, nothing has altered the landscape of business like the upsurge in mobile technology. Today, your organization's efficiency, productivity and security all depend on the ability of your team and your clients to seamlessly connect to the data and software they need - wherever they need it most. Make sure you have what it takes to thrive in the mobile economy with help from OpenArc.
Inside their free guide, Nine Essential Elements of a Successful Enterprise Mobility Strategy, you will hear from OpenArc experts on how to innovate and implement your enterprise mobility strategy with speed and quality for a healthy return on investment.
Creating a mobile strategy begins by carefully analyzing your needs and then turning your vision into an actionable plan and operating model. With the proper upfront planning around mobile value, architecture and governance, you can see improved ROI on mobile implementations.
No matter how well your strategy addresses your business goals, it will be useless if it fails to address the needs, habits and viewpoints of your users. User-focused design will increase your adoption rate, ensure proper usage and simplify complex processes into easily understandable tasks. Additionally, being data driven in your approach can help you understand app usage patterns and how your users are interacting with the application.
Finally, you must be certain that your plan will be successful for years to come. One way to get on the right track is to keep an eye on the IoT arena and how it will impact your business. According to the technology research and insights team at Gartner, 21 billion IoT devices will be online by 2020. To plan for this new reality, your enterprise mobility strategy should begin thinking about the new opportunities that lie ahead now before getting left behind the competition.
Mobile isn't the future. It's now. Is your business ready? Rethink and revitalize your mobility strategy today by downloading OpenArc's new white paper Nine Essential Elements of a Successful Enterprise Mobility Strategy at
www.openarc.net/offers/
.
OpenArc is a technology consulting firm specializing in talent, strategy, and software development services. We are collaborative problem solvers, providing a spectrum of blended, innovative technology solutions that address today's complex technology needs and enable client strategies. Our expertise and transparency lead to powerful, measurable results. Discover all the ways we can help your organization be more successful at
www.openarc.net
.