OpenArc Uncovers that Most IT Professionals Have Never Worked with a Professional Recruiting Agency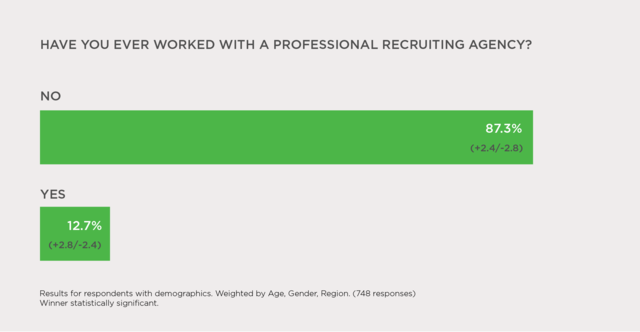 May 10, 2016 - In the cutthroat world of information technology, it comes as little surprise that landing in the right job isn't always as easy as we would like it to be. Professional recruitment agencies like OpenArc can make the search a little easier, but it turns out that not everyone is using the available tools to their advantage. In a recent survey, OpenArc learned that over 87 percent of respondents have never worked with a recruiting agency.
With over 700 responses from Americans aged 18 to 65 and over, it's safe to say the trend is pretty consistent across the country. However, some interesting insights can be pulled when looking at those respondents who have worked with a staffing agency: nearly one in five respondents between the ages of 25 and 44 have worked with a professional recruitment agency - marking a generational shift that closely reflects new realities in the information technology job market.
IT-related college majors have also been on an upward trend of late, so much so that a recent Kiplinger study discovered that the top three "best college majors for a lucrative career" all fell in the information technology industry. With so much promise and potential, it's easy to see how competitive the job market can be.
A professional IT staffing agency can help job candidates truly stand apart, growing and highlighting your personal brand and defining who you are to potential employers. Once they find the perfect fit, they will remain at your side to make sure you are on the right path, offering continuing advice for significant professional development.
Whether you are a seasoned IT veteran, a former freelancer looking for a new challenge, or a recent graduate looking to dive headfirst into new career opportunities, there is never a bad time to step up your job search. Learn more about how working with a professional recruitment agency may be the best move you can make by visiting
https://www.openarc.net/our-blog/openarc-101-have-you-ever-worked-with-a-professional-staffing-agency
.
OpenArc is a technology consulting firm specializing in talent, strategy, and software development services. We are collaborative problem solvers, and our process focuses on building and maintaining personal relationships with job seekers to provide powerful value to everyone involved. If you're looking for a fulfilling career but need a little guidance to get there, get in touch with OpenArc today at
www.openarc.net
.