Congratulations Thomas Jefferson School of Law Spring Class of 2016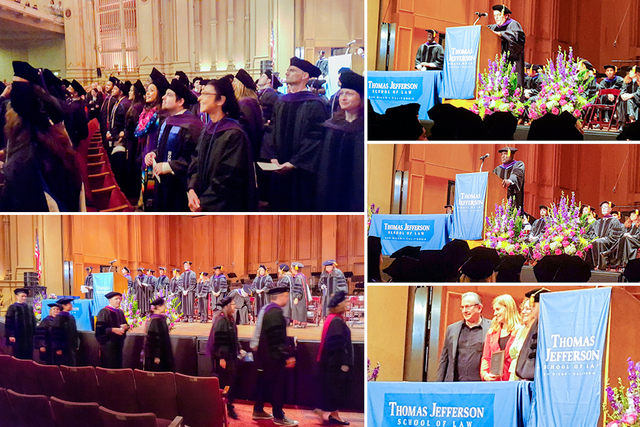 SAN DIEGO, CA, 5/18/16 – On Saturday, May 14th, the cheers and applause of proud family, friends, and faculty filled Copley Symphony Hall in downtown San Diego as Thomas Jefferson School of Law May graduates assembled. Chairman of the Board of Trustees, Randy K. Jones' introductory remarks were quickly followed by Dean Thomas Guernsey's presentation of the Summa plaques to the most distinguished graduates, including Valedictorian Michael John Christopher.
"Courage is not the absence of fear, but the triumph over it," said Michael Christopher, quoting the late Anti-Apartheid activist and former South African President Nelson Mandela. Christopher was referring to his own apprehension and fear of not succeeding in law school during his valedictorian address. He encouraged his fellow graduates to take risks and to never allow fear of failing to overcome one's goals.
This year also marked the awarding of the Samuel Kossack '15 Social Justice Award to Thomas Jefferson School of Law 3L student Catherine Rogers for her contributions to social justice. Thomas Jefferson School of Law created this award in memory of alumnus Samuel Kossack, who himself was a champion of social justice, helped those who were less fortunate achieve equity and dignity. The award was presented by Dean Guernsey and the parents of Samuel Kossack, Ron and Alice Kossack.
Thomas Jefferson School of Law 1985 alumnus and current County of San Diego Public Defender Henry C. Coker delivered this year's commencement address. Coker offered graduates some practical advice on how to stand out in job interviews for the legal profession. "Can you think like a lawyer? Can you think quickly on your feet? Are you willing to take on the challenge and become flexible?" Coker said.
Coker reminded graduates that when they take their oath after passing the Bar that "You are the defenders of the Constitution of the United States, you are protectors of the powerless, and defenders of liberty," Coker concluded.
Together, Chairman Jones, Dean Guernsey and Professor A. Thomas Golden conferred 140 Juris Doctorate degrees, 13 International Taxation and Financial Services LLM degrees, 1 American Legal Studies LLM degree and 1 Doctor of the Science of Law (JSD) degree. As is tradition, the Alumni Association President, Jeremy Evans '11, welcomed the newest graduates into the Alumni Association and offered short advice on their future as legal professionals.
Closing remarks were made by Dean Guernsey. Dean Guernsey's reflections on his connection to the graduating class, who began law school when he came on as president and dean of Thomas Jefferson School of Law, led to a standing ovation from the graduates, faculty and audience who were in attendance.
Thomas Jefferson School of Law offers a comprehensive legal education to a nationally-based, diverse student body. The non-profit law school is consistently ranked as one of the most diverse law schools in the nation, with 52 percent of its most recent class being students of color. Located in Downtown San Diego, Thomas Jefferson Law has evolved into an innovative, cutting-edge law school, devoted to the individual needs and success of its students. More information is available at
www.tjsl.edu
.
CONTACT: Thomas Jefferson School of Law Director of Marketing and Communications Edgar Hopida, 619-961-4314 or 619-913-0719,
ehopida@tjsl.edu
Email Thomas Jefferson School of Law