After Helping Athletes Worldwide Transform Their Bodies And Performance, Sports Nutrition Company All American EFX Transforms Itself By Becoming EFX Sports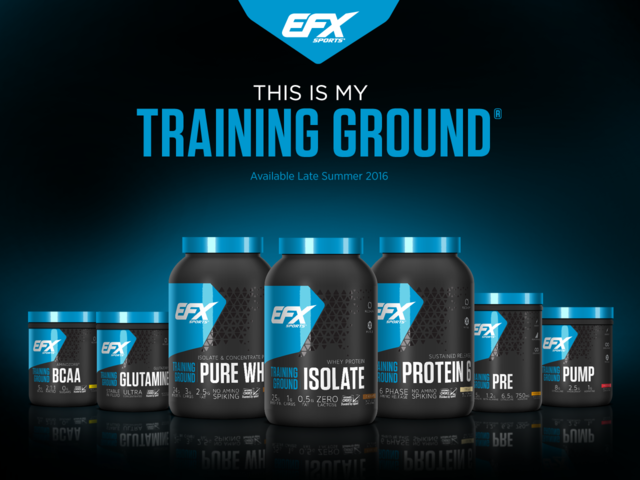 May 18, 2016 - Sports Nutrition company All American EFX has now officially rebranded itself worldwide as
EFX Sports
. The company is best known for producing innovative and industry changing products such as, Kre-Alkalyn buffered creatine monohydrate and Karbolyn, the high-performance carbohydrate.
"Becoming recognized as
EFX Sports
means we are broadening our appeal and reach in the marketplace. We want to help athletes in all sports, not only those pursuing a better physique", says CEO Bruce Butterbredt. "So, we developed an array of products called the 'Training Ground'."
He continues, "We understand all athletes have one thing in common, regardless of their sport: They all train. Our new 'Training Ground' series offers unique packaging and cutting-edge formulas that cover every major product category an athlete could ever want.
EFX Sports
guarantees athletes their products are 100% drug-free and offer the highest possible quality. Dr. Jeff Golini, Executive Formulator for
EFX Sports
, says, "We literally stopped at nothing to ensure anyone using these products gets a real advantage on the playing field or in the gym. In other words, my goal was to make sure the
EFX Sports
statement 'Formulated To Win' really is more than just a tagline."
The company is a proud sponsor of both amateur and professional athletics alike. For example,
EFX Sports
is the first international partner of the Billings Wolves Indoor Professional Football team in Billings, Montana.
The new
EFX Sports
'Training Ground' series will be available through leading online retailers, health food stores and gyms around the world in late
Summer 2016
.
For more information, call 888-238-1864 or email:
info@efxsports.com
.