Usage Based Auto Insurance is the Future, Canada Needs to Get on Board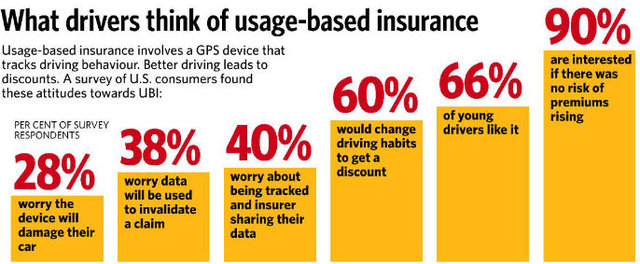 May 20, 2016 – Shop Insurance Canada (ShopInsuranceCanada.ca) is urging the Canadian auto insurance industry to take usage based insurance (UBI) seriously as the country is already lagging behind. The online expert argues that the UBI model has the potential to carry the industry forward into a truly modern era and Canada needs to be finding ways to implement the model.
Now is certainly the time to get on board with UBI according to IHS Automotive, which used a recent study titled
Auto Tech Report – Usage Based Insurance (UBI)
to point out that there will be 142 million global customers utilizing usage based insurance by 2023.
"The current UBI landscape is in transition with robust expansion," said Stacey Oh, manager of automotive technology at Englewood, Colo.-headquartered IHS Automotive, in a statement. "New insurers are entering the market, new markets are being opened and new solutions are being launched."
The auto insurance industry is facing numerous challenges in the near future, with the advent of autonomous vehicles likely to change the insurance landscape. The technology will reduce accidents and will push liability onto manufacturers instead of consumers. Premiums are likely to tumble and vehicle manufacturers could even develop their own in-house insurance policies.
Shop Insurance Canada says the auto insurance industry needs to adapt to these changes, and
UBI coverage is an exciting prospect
that could see companies move with the technological advancements:
"Changes to the auto insurance industry will be substantial over the next two decades, and if companies do not start to adapt now, they could be left behind. While there are numerous avenues to explore, usage based insurance is perhaps the most encouraging. It gives customers the kind of control advancing technology allows, but permits insurance companies to continue offering coverage and at a low price."
Explanatory by its name, Usage-based auto insurance is a type of coverage that literally only charges consumers for how much they use their vehicle. This kind of insurance has even been further refined to charge drivers for insurance by the mile. UBI coverage usually involves drivers installing telematics devices in their vehicles for companies to monitor usage.
The telematics devices installed in vehicles monitor drivers in real time, taking account of the way the car is driven, how fast it goes, and assessing the risk the driver presents. Many millions of users are already using UBI around the globe and by the end of 2015 there were 15 million customers on board with this growing insurance model.
Admittedly this is a growing market, but Shop Insurance Canada says providers in Canada need to get on board with UBI sooner rather than later:
"The UBI concept is still being explored for the most part, but while some countries are already seeing the potential benefits of usage based coverage, Canada is locked in debate over its viability. It seems that UBI coverage is here to stay, so the insurance industry should embrace the model and help consumers move into a new technological era."
Consumers may need to be convinced to ride around with their driving being monitored, but the savings on premiums could offset any issues of privacy. That has been the case in mature UBI markets like the United Kingdom and Italy, the latter of which says UBI has a 10% market share over the entire auto insurance market already.
About Shop Insurance Canada
Shop Insurance Canada
is a Toronto based company that specializes in delivering the best auto insurance products to customers around Ontario and Canada. The online auto insurance quoting tool uses an engine that is easy to use and accurate enough to deliver the best auto insurance quotes from over 25 of Canada's leading providers. Shop Insurance Canada also offers expert advice on the auto insurance industry, as well as guides and news to help customers find the best deal possible.
Shop Insurance Canada
1003-60 Bathrust St.
Toronto, Ontario
M5V 2P4
Canada
416-913-0151
Email Shop Insurance Canada