QSAN introduces XCubeSAN XS5200 series and XCubeDAS XD5300 series at Computex 2016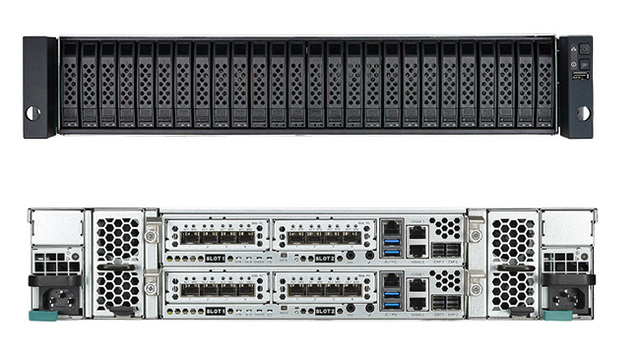 Taipei, Taiwan, May 24, 2016 – QSAN Technology, Inc. today announced the product launch of its brand new XCubeSAN XS5200 series and XCubeDAS XD5300 series at upcoming Computex 2016 (booth J1223, Nangang exhibition center). XCubeSAN is QSAN's next generation SAN storage platform, featuring the latest Intel® Xeon® D-1500 processors and the QLogic® 2600 series Gen 5 (16Gb) Fibre Channel quad-port controller. XCubeDAS is QSAN's next generation DAS (Direct-Attached Storage) expansion enclosure product line which fully adopts native 12G SAS 3.0 technology and it can serve as expansion enclosure of XCubeSAN while providing storage capacity to the servers.
"Both XCubeSAN and XCubeDAS are QSAN's commitment and answers to its customers to offer fully-featured enterprise-level SAN and DAS storage systems to SMB businesses. XCubeSAN series is designed and optimized for I/O, scalability and reliability to accelerate enterprise mission-critical applications and enhance IT efficiency and agility." said Gordon Hsu, director of product management.
QSAN worked with Intel and QLogic to build the next generation storage platform to the highest quality. Thanks to integrating the best and latest silicon technologies from Intel and QLogic, XCubSAN XS5200 series can deliver up to 12,000 MB/s read and 8,000 MB/s write in throughput and over 1,500,000 IOPS to enhance enterprise I/O critical applications, media & entertainment, large-scale surveillance, high performance computing and virtualized datacenters. "Data center customers are seeking new levels of density, integration and intelligence in their storage systems," said Andrea Nelson, Marketing Director of Storage of Intel's Data Center Group. "The Intel ® Xeon® processor D-1500 product family allows storage providers like QSAN to provide their customers with these important features and deliver greater efficiency and return on their investment."
"QLogic Gen 5 Fibre Channel technology addresses the growing bandwidth requirements of today's highly virtualized data centers," said Vikram Karvat, vice president of products, marketing and planning, QLogic. "QLogic's innovative multi-port isolation architecture provides maximum IOPS and low latency to support business-critical applications, scaling performance and delivering the ultimate in reliability."
Both XCubeSAN and XCubeDAS products come with a complete range of form factors, including 4U 24bay, 3U 16bay, 2U 12bay, and 2.5" high density 2U 26bay. Latest Intel Xeon Broadwell-DE CPU, DDR4 ECC memory, native 12Gb SAS 3.0, and dual host card design make XCubeSAN future-proof and can deliver astounding performance to meet the demands of all kinds of enterprise applications. XCubeSAN is also optimized for SSD drives to support auto tiering and SSD caching to further enhance performance, increase efficiency with a lower total cost of ownership. Every new feature on XS5200 series is future-focused, our performance and data security has been pushed to the limit to ensure we have a truly enterprise storage system. XS5200 series will feature SED drive support, iSCSI force field protection for mutant DDoS attack, and offer super capacitor module and M.2 flash module for immediate memory protection.
Product models are offered in base units plus a variety of host cards to choose from to allow maximum flexibility and scalability to meet limited IT budgets and fit in all kinds of modern IT deployments. Please visit our website or contact our sales representatives for more information.
About QSAN
QSAN Technology, Inc. is a specialized manufacturer of networked storage solutions. Its iSCSI and Fibre Channel SANs and unified/hybrid storage offer outstanding performance, great reliability and competitive price-performance ratio to allow enterprises and SMBs worldwide to accelerate IT infrastructure efficiency and agility. QSAN storage solutions have been deployed globally and trusted by organizations' businesses of all sizes and locations. For more information, please visit
www.QSAN.com