Lift Products Linear Actuated Mobile Lift Tables Now Available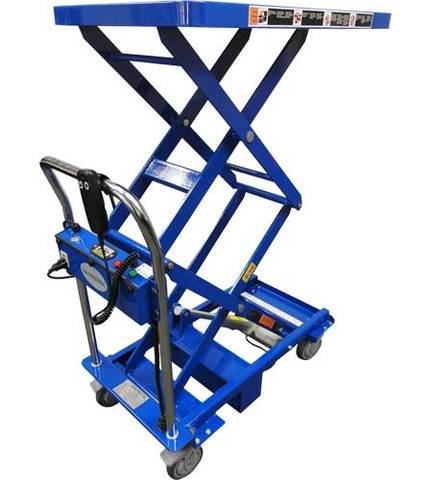 May 24, 2016 - Waukesha, WI - Lift Products Inc announced today the expansion of its mobile lift table line of ergonomic equipment with the addition of
linear actuated lift carts
. The MMLA series uses a linear actuator to raise and lower the platform in a quiet and precise manner with no hydraulic fluid. Suitable for clean room operations or other applications that require no hydraulic drift and no potential for oil spills, the lifts are available in two distinct styles. The MMLA-250 has a single pair of scissor arms and can lift 550 lbs up to 32.7", while the MMLA-150D is a double scissor design that can lift 330 lbs up to 50.7". Both styles are available with platform sizes of either 19.7" x 31.5" or 24" x 35.8".
The linear actuator is operated by a hand pendant control on a 5' coiled cord. This allows the users to activate the lift in numerous locations, creating a flexible work positioner for a multitude of potential applications. The lifts feature a battery discharge indicator so that users are aware of how much power remains in the 12V onboard battery. The MMLA-150D can lift and lower approximately 220 times on a full charge, while the MMLA-250 can cycle up to 140 times. Charging the units back up to full power is simple with the use of the onboard automatic charger that plugs into any available 110V outlet. While charging, the red indicator light will be illuminated and once done charging the green indicator light will illuminate. When the units are not in operation, a simple on/off toggle switch will conserve battery power for when it is needed next.
These linear actuated lift carts are highly mobile and feature all swivel medical grade casters. The rear casters include brakes to keep the lift stationary when needed. Both the top and bottom rollers of the scissor arms are trapped within a steel "C" channel, creating a safe and stable lifting platform. While the units are low maintenance, if inspection of the lifts are required, the built-in retractable maintenance safety bars can be lowered to create a hard physical stop against the base frame.
The MMLA series of
linear actuated lift carts
feature a quality fit and finish. Their precise and quiet operation is suitable for numerous material handling and ergonomic applications.