Net Health Explores Survey Results that Suggest the New Era of Medical Records Technology is Holding Strong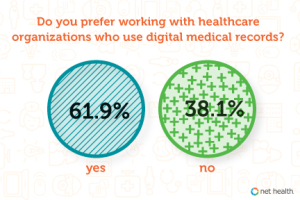 May 26, 2016 - According to a recent survey conducted by Net Health, 61.9% of patients polled preferred their provider to use an electronic medical record (EMR). Despite this positive response from patients, some providers have yet to fully embrace electronic medical records because they feel that their use detracts from the human interaction in a patient visit.
The survey shed light on a patient's preference towards EMR adoption in healthcare facilities, revealing a consistent consensus across all age groups, genders and other demographical differences. Even the future looks promising for EMR adoption, meaning we could see a new era of EMR adoption very soon. Sixty-five percent of the youngest patients polled, between the ages 18-34, preferred working with a healthcare facility that has an EMR system in place.
Still, some healthcare providers resist the change. Among non-adopting healthcare providers, there is a belief that the patient-provider relationship will suffer, although the results thus far suggest otherwise. Electronic medical records actually boost the quality of care in many instances, creating an environment in which patients and providers can discuss treatment and care with a complete medical history at their fingertips.
Another key feature that EMRs provide is instant access to medical records for the patient and the practitioner, effectively bypassing lengthy wait times for document retrieval and the need to reference mismatched or inaccurate information. EMRs support expedient up-to-date healthcare for the patient and the provider by ensuring key data is accessible when needed.
Technology is continually changing the world around us, and the world of healthcare should not be immune to the effects. See for yourself how patient preference is supporting this new era of healthcare information technology by visiting
http://www.nethealth.com/emr-a-new-era-in-medical-technology-survey-results/
.
Serving over 3,700 urgent care, wound care, physical therapy, speech and language therapy, occupational therapy, occupational medicine, employee health, and workplace medicine facilities, it's no wonder why Net Health is the leader in software solutions for specialized outpatient care.. Learn more at
www.nethealth.com
.