Mr. John Releases Slideshow Outlining Their Luxury Portable Restrooms Offerings for Weddings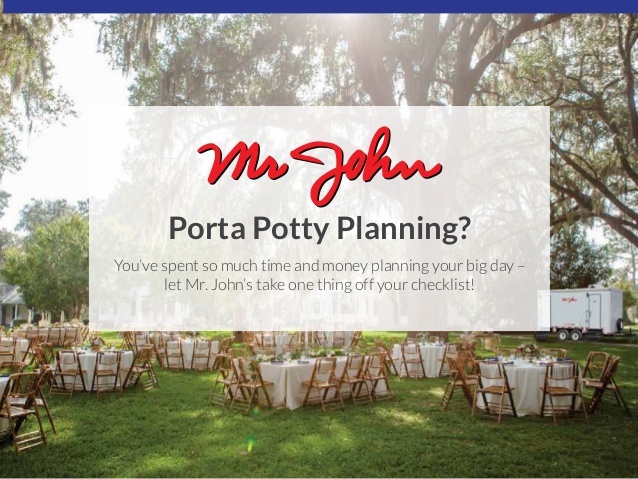 May 28, 2016 - Is there a wedding in your near future? Well if you've spent so much time and money planning for your big day, let the portable sanitation experts at Mr. John take one thing off your checklist by checking out their new slideshow, 'Porta Potty Planning for the Big Day.'
If you are planning an outdoor wedding this spring, summer or early fall, then adding additional sanitation to your outdoor location can help your special day go off without a hitch. Even if your wedding is fairly casual, you should look for luxury toilet rentals that are a step above the average beach or park restroom.
One of the most common choices couples make for their big day is renting deluxe or VIP porta potty units. Both types of portable toilet rentals are renowned for their spacious interiors and luxury features – such as interior lighting, running water and a vanity mirror.
If your wedding is a bit larger, or even more formal, a luxury toilet trailer may be the way to go. Luxury toilet trailers can accommodate crowds as big as 800 people, all while offering many of the amenities we've come to expect in our household bathrooms. In addition to the features found in the deluxe and VIP units, a luxury toilet trailer includes full-length mirrors, a temperature controlled environment, marbled countertops and music.
Wedding portable toilet rentals may not fulfill your every sanitation need on your special day. If that's the case, you may want to turn your attention towards mobile office trailers, shower stations and other hygiene accessories. Mobile office trailers are perfect for helping the wedding party get ready away from their own homes or even just to momentarily escape the chaos of the big day.
Hygiene accessories can also help your wedding day go more smoothly. Working alongside an experienced portable restroom operator can help you make informed decisions about what accessories you'll need to keep you and your guests happy all ceremony and reception long.
Enlisting the help of a portable sanitation supplier can put ease on some of the stresses of wedding planning. Take some of the planning off your plate by visiting
https://www.mrjohnpit.com/porta-potty-planning-for-the-big-day-slideshow/
.
Make sure your fairytale wedding goes exactly how you pictured it with help from Mr. John. Putting our years of experience and expertise to work, our team of portable sanitation experts can help you accommodate all of your big day's special needs. Start planning for your wedding sanitation needs by visiting
www.mrjohnpit.com
.