MasterPieces Hits Sweet Spot in Deal with HERSHEY'S Candy Brands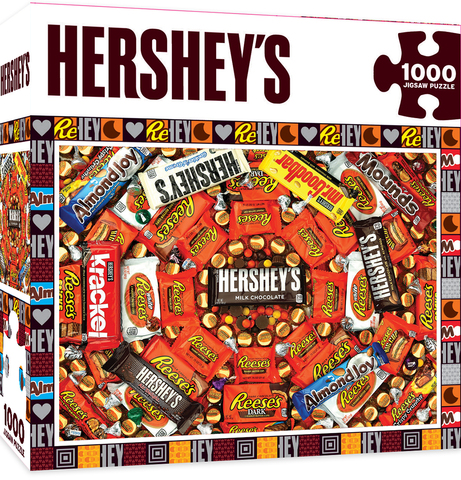 June 3, 2016 - MasterPieces Puzzle Company today announced a sweet deal with The Hershey Company to launch the delicious new Hershey's Collection line of jigsaw puzzles.
MasterPieces' Hershey's Collection, arriving in stores this Summer, is a set of four, different, 1,000-piece fun and challenging chocolate treasures. The puzzles (MSRP $14.99 each for ages 13 and up) are savory scenes that feature many of the favorite Hershey's chocolate brands that America has come to know and love.
David Rolls, president of MasterPieces, said, "Working with Hershey is a perfect match for us. The subject matter and colorful images literally offer great 'eye candy' to jigsaw puzzle builders of all ages."
Each piece of The Hershey's Collection is made of 100% recycled materials and arrives in durable and elegant packages suitable as gifts and for sustained storage, multiple use, and repeat puzzle builds. Once pieced together, The Hershey's Collection presents a nicely-sized 19.26" x 26.75" display.
"We are delighted to welcome MasterPieces to the Hershey family," said Ernie Savo, Director of Global Licensing at The Hershey Company. "They are proven experts in their space and we look forward to working with them to bring Hershey's iconic brand properties to life in the puzzle category."
MasterPieces also offers its exclusive, award-winning, puzzle mats for building, no-mess MasterPieces glue to save each puzzle building masterpiece as a keepsake, and frames to display an official MasterPieces masterpiece.
About MasterPieces:
MasterPieces was founded by David Rolls, former 8-year professional baseball player for the Kansas City Royals and Texas Rangers organizations, in 1995 with a passion to serve diverse retail markets and partner with evergreen brands and top puzzle artists. Twenty years later, MasterPieces has established itself as the market leader for combining the best quality products with the best value. Headquartered in Tucson, Arizona, MasterPieces reputation for producing innovative and high-quality products has propelled its global growth and the company's commitment to ensuring great value and superior customer support has earned its dedicated, worldwide customer loyalty. MasterPieces creates some of the world most elegant puzzles and innovative packaging, as well as toys and gifts, while also partnering with brands such as John Deere, John Wayne, Elmer's, Tetris, Animal Planet, Hershey's, and sports licensing with MLB, NFL, NHL and NCAA organizations. For more information about MasterPieces, visit the company website at
MasterPiecesInc
and for the most immediate information and interaction with the company, please like and follow MasterPieces on
Facebook
,
Twitter
,
Pinterest
, and
YouTube
.
Email MasterPieces Puzzle Company