Shop Insurance Canada: Inside the Electronic Pink Slips Debate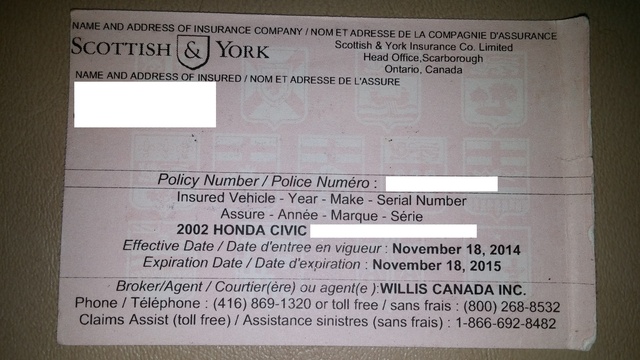 The benefits of adopting electronic pink slips for auto insurance in Ontario and across Canada far outweigh the negatives and this technology should be adopted. That is according to Shop Insurance Canada (ShopInsuranceCanada.ca), although the online expert agrees with a recent paper the Canadian Council of Insurance Regulators (CCIR) that said regulations would likely be different around the country.
Some find it archaic that Canadian law still demands that a driver has a physical pink slip paper to display auto insurance coverage. This documentation can be easily forged, copied, or stolen and is arguably a contributor to auto insurance fraud, especially in Ontario. Consumers and insurance providers have long called for the introduction of electronic pink slips, but legislators are dragging their feet.
Most forms of financial and legal documentation are now available electronically, so there is no compelling argument as to why pink slips should not be. Indeed, they are very difficult to copy aside from a major cyber breach of a government or a private data store. The CCIR's Electronic Commerce Committee (ECC) is pushing to introduce EPAI in Canada, the organization said in a press release.
The published report comes after the CCIR conducted an in-depth study and review of benefits of
electronic pink slips
, which also took into account the regulations and policies or individual provinces around the country. The result is the Electronic Proof of Automobile Insurance Issues Paper.
"In order to insure a coordinated approach is taken in authorizing the use of EPAI in all Canadian jurisdictions, it is suggested that regulators take such action within an agreed timeframe," the paper said. "However, allowing for the use of EPAI by insurance regulators may require some legislative amendments in other areas, specifically as it relates to operational concerns regarding privacy and liability issues. Such concerns need to be identified and fully explored with stakeholders in order to understand the impacts and the required changes that need to be put in place in support of EPAI."
The paper adds some of the following points to the EPAI debate:
Will law enforcement be allowed to access other information/content on electronic devices used to demonstrate proof of insurance?
If law enforcement questions the validity of EPAI, are they allowed to confiscate the electronic device?
Who is responsible if electronic devices used to demonstrate proof of insurance, such as mobile device, are damaged during inspection?
What is considered "reasonable inspection" for law enforcement handling electronic devices?
When travelling to a jurisdiction that does not yet allow for the EPAI, what steps must be taken?
If an electronic device malfunctions, has no network access or is out of power, how will law enforcement handle such issues?
If the owner on a vehicle gives permission to third party to use their vehicle, how does electronic proof of insurance work in such cases?
While photocopies of proof of insurance are not permissible, will insureds be allowed to print paper copies of proof of insurance cards emailed to them by their insurer?
Will electronic proof of insurance apply to all classes of vehicles? and
What kind of safeguards should be in place to prevent the fraudulent use of electronic proof of insurance?
About Shop Insurance Canada
Shop Insurance Canada is a Toronto based company that specializes in delivering the best auto insurance products to customers around Ontario and Canada. The online quoting tool uses an engine that is easy to use and accurate enough to deliver the best auto insurance quotes from over 25 of Canada's leading providers. Shop Insurance Canada also offers expert advice on the auto insurance industry, as well as guides and news to help customers find the best deal possible.
Shop Insurance Canada
1003-60 Bathrust St.
Toronto, Ontario
M5V 2P4
Canada
416-913-0151
Email Shop Insurance Canada