Goldy The Gopher Sports Our Very Own Sign Waving Machine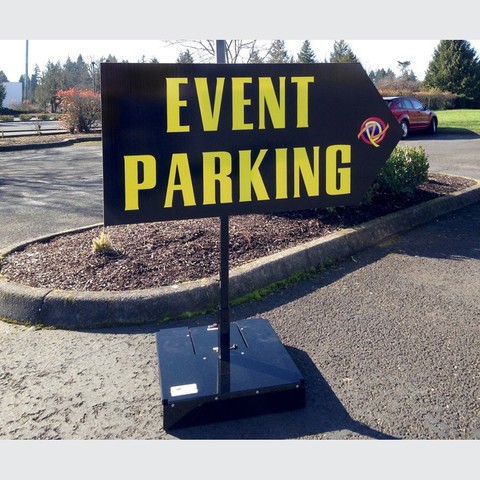 Minneapolis, Minnesota (June 14, 2016)ľUniversity of Minnesota students, visitors, and staff are seeing more of their beloved mascot popping up throughout the campus during sporting and special events. But Goldy the Gopher himself isn't dashing about campus making all of these appearances promoting safety, giving directions, and helping to bolster the brand of the University of Minnesota. U of M has deployed two Sign Waving Machines, with custom mascot graphics, allowing Goldy to be in more then one place at a time helping students, visitors, and staff with the campus layout.
Working with the ParkingZone, a division of Pacific Cascade Corporation (PCC), U of M purchased two Sign Waving Machines and commissioned the ParkingZone to design and develop the six-foot graphics of Goldy for both machines. "We wanted a friendly yet informative way to convey messages to our U of M friends and guests," stated Jacqueline Brudlos, U of M Communications Manager for Parking & Transportation Services. "It's really a fun and efficient way to provide information since the Sign Waving Machines with Goldy are such attention grabbers," said Brudlos.
"With so many events happening on the U of M Campus - the TCF Bank Stadium, home of the Golden Gophers, the temporary 2015 home of the Minnesota Vikings, Mariucci and Williams Arenas, and the Northrop Memorial Auditorium, there are thousands of visitors to our campus and they need help finding their way around. These Sign Wavers help," said Brudlos.
Darlene Chapman, Customer Service Representative for the ParkingZone worked directly with U of M to orchestrate the development process. "The Sign Waving Machine is a great option to convey important messages while building brand support," she said. "And it was a fun project to work on and deliver."
U of M supplied images of their Goldy mascot to the ParkingZone. J. Scott Collard, Marketing Director of PCC, created the Photo Illustration used on the Sign Waving Machines. "Working with Jacqueline to develop the six-foot graphic was an easy process and I think we hit a home run, no matter what event they want to promote".
Ben Schnabel, CAPP, Assistant Director of U of M Public Parking and Transportation Services said, "I have been using the signs with our operations team and the Goldy signs are very effective because of it's novelty and the directional sign moving in a circular pattern grabs everyones attention. One of the fun plans we have for them is to use them during the spring graduation ceremonies and summer tour season".
View Goldy the Sign Waving Gopher video at:
https://www.parkingzone.com/parking-supplies/facility/signage/message-windmaster-signs/sign-waving-machine.html
ABOUT UNIVERSITY OF MINNESOTA
The University of Minnesota-Twin Cities campus is the third largest traffic generator in Minnesota. The U of M's Parking and Transportation Services department is committed to establishing, maintaining and improving a comprehensive transportation system that reduces congestion, eases accessibility and enhances a friendly university community.
ABOUT PACIFIC CASCADE CORPORATION
Since 1987, Pacific Cascade has been providing innovative solutions for several industries including the Parking, Hospitality, Traffic Enforcement, and recently adding the Environmental Sustainability Industries with products to manage and support their effective operational needs.
https://www.parkingzone.com/sign-waving-machine.html