"The Island" a Novella by Patricia Mahon receives the Literary Classics Seal of Approval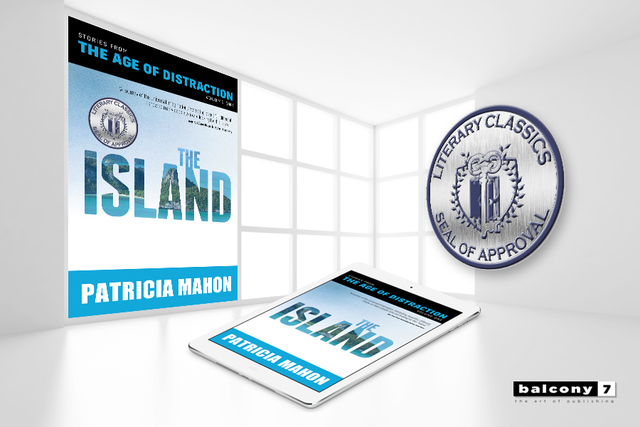 June 17, 2016 - Literary Classics is pleased to announce that the book, "The Island" by Patricia Mahon, has been selected to receive the Literary Classics Seal of Approval. The CLC Seal of Approval is a designation reserved for those books which uphold the rigorous criteria set forth by the Literary Classics review committee, a team comprised of individuals with backgrounds in publishing, editing, writing, illustration and graphic design.
Is the art of formulating words becoming extinct? Have texts, emoticons and e-mails smothered the act of communication?
"You would think technology would make communication easier." "That's the irony, Percy. It's shut everything down!"
… thus begins a snippet of dialogue in this thought-provoking novel about an app created to encourage people to put aside their digital distractions and engage in the art of story-telling. The Island is a compelling tale within a tale which draws readers in with the turn of each page. Employing the use of this interactive app, participants become immersed in a world created by people from around the globe who breathe life into an interchange of ideas which cohesively develop into a free-form story.
A compelling read that's hard to put down, fantasy and reality merge to create a fascinating tale of adventure, love and hope. As the story develops we are drawn into Morgan and Percy's world and that of their app. Author Patricia Mahon has crafted a particularly relevant novel with a powerful message which resonates with readers on many levels. Well written and entirely unique, The Island has earned the Literary Classics Seal of Approval.
"The Island" is part of The Age of Distraction Literary Series which is dedicated to reigniting the spirit of storytelling in the Modern Age. The novellas offer commentary on the distracted mind and draw attention to the merits as well as the perils of automation. Above all, they provide a snap shot of contemporary characters matriculating in a world where storytelling and literary history are still relevant.
Literary Classics, an organization dedicated to furthering excellence in literature for young readers, takes great pride in its role to help promote classic literature which appeals to youth while educating and encouraging positive values in the impressionable young minds of future generations. To learn more about Literary Classics, you may visit their website at
www.clcawards.org
or
www.childrensliteraryclassics.com
"The Island" is available on Amazon.
https://www.amazon.com/Island-One-Stories-Age-Distraction/dp/1939454670/ref=sr_1_1?ie=UTF8&qid=1466141512&sr=8-1&keywords=patricia+mahon
Email Outsource Marketing Group, Inc.