Optomi Named One of This Year's Best and Brightest Companies To Work For® in Atlanta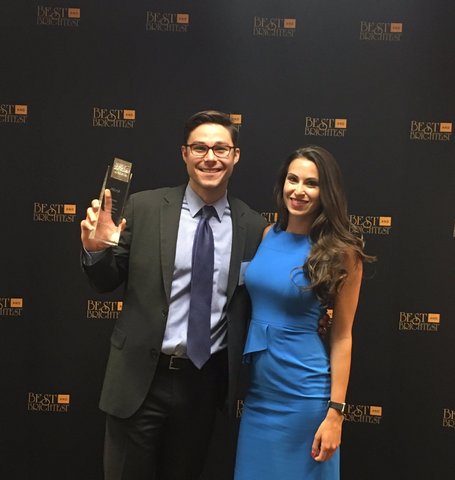 June 27, 2016 - Every year companies throughout Atlanta compete to be named one of "Atlanta's Best and Brightest Companies to Work For®." Only those distinguishing themselves as having the most innovative and thoughtful human resources approach are bestowed the award. This week, Optomi was named one of Atlanta's Best and Brightest Companies to Work For®.
"
Optomi
is honored to be recognized as a top 101 Best and Brightest Companies to Work For®. Our dedication to building a strong and unique company culture sets us apart in the tech staffing space", commented Michael Winwood, CEO Optomi.
Optomi is one of the fastest growing tech staffing firms in the U.S. and makes a practice of implementing strategies that successfully surpass the competition as the most leading-edge.
ABOUT OPTOMI, LLC
Optomi is inspired by: optimum…being the best. We are a
tech staffing firm
with a unique approach. Optomi has developed fresh philosophies as cutting-edge as the technology we represent. With a revolutionary consultant-focused approach, Optomi is completely dedicated to its consultants, clients and employees. By utilizing innovative technologies and developing industry leading recruitment processes, we are able to deploy the best project managers, business analysts and technologists in the ever-evolving spaces of mobile technology, information security, network engineering, business intelligence, cloud and application development…making us a leader in the IT staffing world.
Optomi was awarded one of the Best Staffing Firms to Work For® by Staffing Industry Analysts in 2014, 2015 and 2016… accomplishments never before achieved by a company in its first consecutive years of business. Optomi's COO, Todd Black, was a 2015 Finalist for the prestigious EY Entrepreneur of the Year® award. Optomi received three American Business Awards for the Fastest Growing Company of the Year, Best Management Team of the Year and Best Website Home/Welcome page. Optomi has been recognized as a 101 Best and Brightest National Company to Work For®. Optomi ranked #16 of the top 100 companies in Atlanta, winning the 2016 Pacesetter Award and is one of the ACG 40 Fastest Growing Companies in Atlanta.
About Best and Brightest
The Best and Brightest Companies to Work For® is a program of the National Association For Business Resources that provides businesses the opportunity to gain recognition, showcase their best practices and demonstrate why they are an ideal place for employees to work. This national program celebrates those companies that are making better business, creating richer lives and building a stronger community as a whole.