Allied Insurance Brokers Releases New eBook, 'Your Guide to Managing Risks in Slips, Trips & Falls on the Worksite'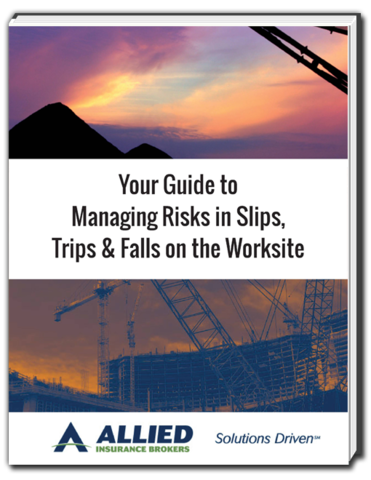 June 24, 2016 - Allied Insurance Brokers, the leading broker of construction industry insurance and risk management solutions, is excited to announce the release of their newest eBook, 'Your Guide to Managing Risks in Slips, Trips & Falls on the Worksite.
As a Solutions Driven organization, Allied Insurance Brokers encourages every one of their clients to take a proactive approach to managing risk on the worksite. The very nature of the construction industry involves various risks for works, so making sure the worksite is as safe as possible should be top priority for your company.
The team at Allied Insurance Brokers hopes that their eBook can provide area employers with comprehensive information on creating a safe workspace – from proper planning of where to store equipment, how to manage accidents as they occur, and what types of insurance and specialty risk services they might purchase to protect themselves.
Risk is common on any project. You need to be able to predict risk and plan for them before they happen. With Allied's Solutions Driven approach to risk management, you can manage your risk and reduce your insurance costs before accidents ever occur. Inside the eBook you'll find Allied's Risk Assessment Checklist, helping you avoid risk before they can threaten your organization.
When it comes to your construction company's bottom-line, ignoring your vulnerability to risk may be the biggest risk you take. Make sure you protect yourself and download your free copy of 'Your Guide to Managing Risks in Slips, Trips & Falls on the Worksite' by visiting
http://www.alliedinsbrokers.com/freeguide/
.
About Allied Insurance Brokers:
Allied is a Solutions Driven organization. Founded in 1982, Allied is a nationwide property & casualty insurance broker focused exclusively on serving the Crane, Scaffold, Rental Equipment and Party Goods, Concrete Pumping, Wood Products, and Non-profit & Health and Human Services industries. That focus creates a wealth of benefits for our clients as we deliver on our year-round commitment to reduce your total insurance cost and help you create a stronger, safer business overall. Our philosophy is that coverage is the start, not end, of our work as your business partner. It's all part of our Solutions Driven focus. Visit
www.alliedinsbrokers.com
to learn more.
Email Allied Insurance Brokers