New Western's Ingenuity Reflected with Debut of Innovative Investment Technology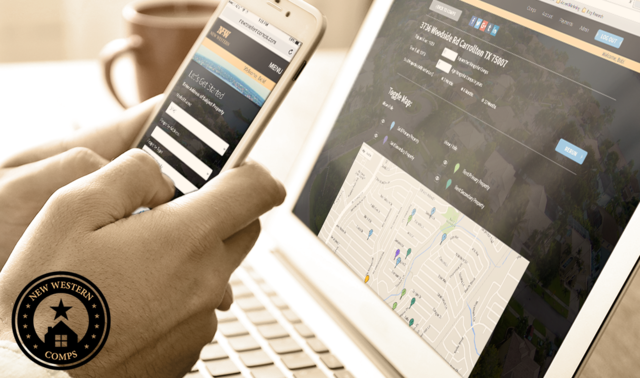 June 28, 2016 - Irving, Texas:
Real estate brokerage firm New Western Acquisitions has been helping develop the success of real estate investors since 2008. In January 2016, the company announced their New Year's Resolution to give their investors the tools and resources they need, and in turn, foster their investment success. The company's integrity has led them to follow through with their resolution, and New Western is proud to announce the release of their newest technological innovation for investors: an all-new
investment comp system
.
Designed for simplicity and ease-of-use, this platform was created with investors' best interests in mind. "We wanted to provide a platform for our customers that allowed for better investment choices that net maximum ROI," said New Western's VP of marketing, Heather Harrington. "So, we built a system that allows users to pull and customize real-time CMA data on their prospective properties as well as to calculate and compare financing choices that might affect their current investment strategy."
The system's cutting-edge technology has been meticulously designed to customize and save Comparable Market Analysis, or CMA, reports, while calculating and comparing a multitude of financial options in seconds. The system returns CMA data on all prospective DFW properties, while advanced algorithms calculate and compare financing options for users' specific investment strategies. Whether investors plan to hold or flip their property, with the
New Western Comp System
, they can compare the potential outcomes of strategies that use cash, bridge loans, or conventional loans and weigh their options.
Investors are also granted the opportunity to access these comps on-the-go. Through the Investor App, users can access the comp engine on their smartphones, anywhere, in real-time. This provides New Western investors with an advantage, since this comprehensive information can be viewed instantly during critical decision-making moments such as real estate auctions or showings.
The advantage of the system, as opposed to pulling a zillow report or using a realtor, is that users have a full range of abilities that yield more accurate results and expand on the items that investors need to know to make a good decision. Users are able to customize
specific target locations
and select as many properties as they wish to review. Likewise, users can locate similar properties for a review of specific comparable values. This feature bypasses any potential bias that could be in place when realtors or wholesalers choose properties that have values set to benefit them the most.
All of this information is presented in an easy-to-read format, and users are invited to print or save their reports. New Western is initially releasing this system to investors in the Dallas-Fort Worth area, and further plans include launches every 30 days to other markets nationwide.
"We are excited to launch our first market in DFW," Harrington continued. "In the coming weeks, we have plans to expand further into Texas. Then, we will keep the momentum going into other states as well!"
New Western Acquisitions
got its start in Dallas, TX with the mission to acquire and resell distressed residential property for affiliated holding companies. New Western sets themselves apart in the market with a unique brokerage style and high-tech resources that, in turn, developed a successful business model for their niche. To date, New Western's affiliated holding companies have acquired and taken title to enough single-family homes to rank the company as one of the largest, and most successful, home buyers/sellers of distressed investment properties nationwide.
Email New Western Acquisitions