Shouldice Designer Stone Highlights Advantages of Fusion Stone Veneer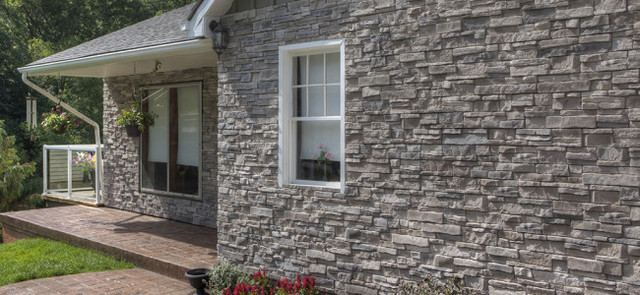 June 29, 2016 - Toronto-based Shouldice Designer Stone says that stone veneer is a perfect and easy way to enhance the appeal of a property. Pointing to its ability to both increase the aesthetic appeal and value of a property, the company points out that Fusion Stone veneer carries all of the advantages of full stone masonry, but is available at a fraction of the cost.
While
Fusion Stone veneer
is not full stone masonry, it shares many of the same advantages. It is durable, looks fantastic finished, and enhances the value of a home. However, veneer also removes many of the disadvantages of stone masonry, such as removing the need of an expert finisher, adding more versatility, and costing much less.
"Available in a full range of colours, stone veneer is cut to much thinner dimensions, allowing builders to save on cost, weight, time and space. Unlike full-dimension stone masonry, thin stone veneer is extremely versatile. Whether you're building from scratch or renovating, these products will easily attach to almost any surface."
In its latest blog post on
thin stone veneer
, Shouldice Designer Stone highlights the full advantages of using its stone veneer to enhance a property.
Affordability
– Thin stone veneer is both weight and size effective, meaning it costs less to make and much less to install, compared to stone masonry. Fusion Stone uses a patented clip system to make DIY installation easier, adding extra savings to the customer who can save on labour costs.
Environmentally Friendly
– The size advantages that make thin stone veneer affordable also make it kinder to the environment. It is easier to manufacture and the process of transportation is more efficient, resulting in a lower carbon footprint. Fusion Stone veneer is LEED compliant and designed with green principles in mind.
Selection and availability
– Full stone masonry looks fantastic, but it is limited aesthetically. Thin stone veneer on the other hand is more adaptable to the wishes of the homeowner. Fusion Stone explains how the different styles of veneer give customers more choice:
"You can choose from two distinctly different styles – Great Lakes and Dry-Stack which come in four and two colour selections respectively. Another great feature is that Fusion Stone has a network of over 1,500 dealer locations across the country, including all of the popular big box building supply retailers."
Versatility
– Thin stone veneer is adaptable. It is as pleasing as an interior decoration as it is as a value enhancing exterior finish. Its aesthetic appeal means it looks excellent as a fire surround, a backsplash, feature wall, and more. Outside, a single veneer clad wall is as appealing in some cases as a complete wall finish.
It's DIY
- Labour costs for traditional masonry products can be astronomical, especially as application of stone masonry requires an expert's touch. Thin stone veneer is an ideal for the DIY enthused because it is possible to apply without any previous masonry knowledge. Fusion Stone has a patented clip system and a clear list of required tools and materials to make applying the thin stone veneer easy.
The advantages of thin Fusion Stone veneer through Shouldice Designer Stone are many. The company has a complete blog post that goes into detail on the various aspects of stone veneer and why it is an excellent choice for homeowners wanting their property to stand out.
About Shouldice Designer Stone
Ontario-based Shouldice Designer Stone has 65 years of experience in delivering leading stone and veneer products in Canada. The company has built a reputation for innovation, while also acquiring a rapport with its customers that is built on high quality products and leading customer care. The 100% Canadian family owned business is now in its third generation of providing stone products in the country.
About Fusion Stone
Fusion Stone is an easy and budget-friendly way to beautifully upgrade your home, inside and out. A patented innovation, Fusion Stone is a thin stone veneer that is easily installed with the included stainless steel clips & screws. You just screw it to the wall and it's "Hooked for Life.
Available in three distinct types, all backed by a Lifetime Guarantee, Fusion Stone can be installed on both new and existing wall assemblies in any weather, by anyone. With just a few basic tools your average home handyman is transformed into a Fusion Stone expert.