Kingdom BioFuel: Pellet Mill in PA Opens for Business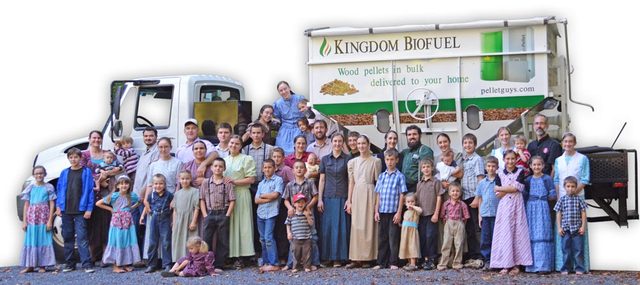 July 1, 2016 - It has been a long time in coming, but the new Pellet Mill in southern Lancaster County, PA is in operation. For months,
Kingdom BioFuel
has been working to get all the pieces together for their new wood pellet mill in PA and the final pieces are finally coming together. Bulk and bagged wood pellets for heating are now in production in this new facility.
It all began months ago with a team from Kingdom BioFuel traveling to the New England states and dismantling a large pellet mill operation. The pellet mill parts were loaded onto several trucks and brought to the new Kingdom BioFuel location at 1989 Lancaster Pike in Peach Bottom. Getting the pellet mill there was only the first step to a long process of getting the pellet mill running.
Initially, Kingdom BioFuel had a plan to be producing
premium bulk wood pellets
by January of 2016. But delays of many kinds kept the process from moving forward as quickly as planned. The company then contracted with another
pellet mill in PA
to get them through the delay. Today, the pellet mill in PA is running smoothly and summer prices for heating pellets are on.
Kingdom BioFuel began in 2010 when Steve Fisher of Lancaster, PA had a heating problem. He was burning corn and pellets in his outdoor furnace when corn and prices skyrocketed. He soon switched to burning all pellets to heat his home, but the backbreaking work of pouring bags of pellets into his furnace was getting to be too much.
Steve spent hours researching other means of getting pellets into his furnace and in the process discovered that bulk wood pellets do exist. He soon ordered several tons and had them delivered. But the fact that there was only one company in Pennsylvania which was producing this valued product left Steve thinking he must get involved in opening a pellet fuel company to supply others like himself who wanted an easier way to burn wood pellets.
For the first few years, Kingdom BioFuel LLC rented a delivery truck and did biweekly deliveries to a small list of clients throughout Lancaster County and the surrounding area. As their customer list continued to grow, so did the need of better equipment to get the job done. Soon Kingdom BioFuel invested in a new state-of-the art bulk delivery truck of their own. Today, this truck is busy making bulk pellet deliveries in Pennsylvania, Maryland and Delaware five days a week. In addition,
bagged wood pellets
are now being delivered to customers within their delivery area.
While much has happened in the past years with Kingdom BioFuel, there is more to come as they strive to live by their company motto of being "Leaders in Renewable Energy." The aim of KBF is to make burning pellets as easy and hands-free as burning oil or gas.