Recent Study Highlights Dangers of Distracted Driving Says Shop Insurance Canada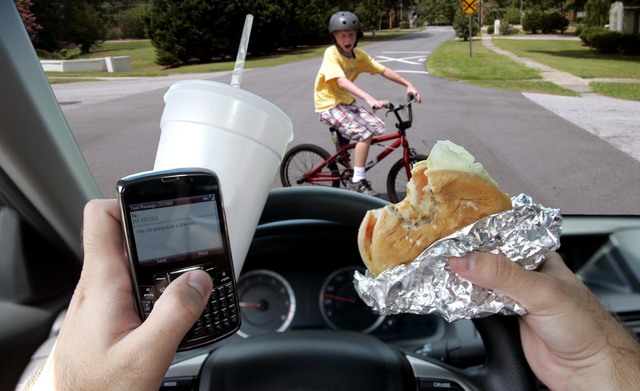 July 1, 2016 - While many people think distracted driving is just the use of a cellphone, a study out of the UK has shown how even minor distractions can have devastating consequences. Shop Insurance Canada says that
distracted driving is a major killer on Canadian roads
, and drivers should refrain from engaging in any kind of distraction while behind the wheel.
Distracted driving is a major problem on Canadian roads, with the majority of collisions each year caused by drivers who were operating a vehicle while distracted. Cellular device use is the most known and frequent type of distracted driving, but being distracted behind the wheel can also include applying make-up and using satnav technology.
While many think they can avoid being distracted and still use their smartphone by utilizing a hands-free kit, a study in the United Kingdom suggests otherwise. The University of Sussex published its findings in a study called "
Imagery-inducing distraction leads to cognitive tunneling and deteriorate driving performance
" suggesting hands free kits are just as distracting as mobile devices.
Published in the Transportation Research Journal, the study found that drivers having conversations that sparked visual imagination would see less road hazards compared to those who didn't have such conversations. The University says drivers will focus on a smaller area of the road when locked into distracting conversations.
"A popular misconception is that using a mobile phone while driving is safe as long as the driver uses a hands-free phone. Our research shows this is not the case," said Dr. Graham Hole, a senior lecturer in psychology at the University of Sussex and one of the study's authors. "Hands-free can be equally distracting because conversations cause the driver to visually imagine what they're talking about. This visual imagery competes for processing resources with what the driver sees in front of them on the road."
Shop Insurance Canada says even minor distractions can be dangerous, especially when technology is involved. The insurance expert says that does not necessarily mean car journeys should be conducted in silence:
"Of course, this presents an even bigger problem. It is not just hands-free kits that are causing distractions per say, but any imagination stimulating conversations. Does that means drivers should not even talk to passengers? Even if logically correct there is no way to ever enforce such a law. The study points out that while talkative passengers also pose a distraction, it is less severe than a hands-free kit because they are also aware of potential road hazards and moderate conversations based on road conditions."
Dr. Hole says chatty passengers pose much less of a risk and is unlikely to be a major contributor to a distracted driving incident.
"They will usually moderate the conversation when road hazards arise. Someone on the other end of a phone is oblivious to the other demands on the driver and so keeps talking. And talking in person involves non-verbal cues which ease the flow of conversation. Phone conversations are more taxing because they lack these cues."
About Shop Insurance Canada
Shop Insurance Canada is a Toronto based company that specializes in delivering the best auto insurance products to customers around Ontario and Canada. The online insurance quoting tool uses an engine that is easy to use and accurate enough to deliver the best auto insurance quotes from over 25 of Canada's leading providers. Shop Insurance Canada also offers expert advice on the auto insurance industry, as well as guides and news to help customers find the best deal possible.
Shop Insurance Canada
1003-60 Bathrust St.
Toronto, Ontario
M5V 2P4
Canada
416-913-0151
Email Shop Insurance Canada