Children's Hospital Patients Get Surprise Celebrity Visits & Bears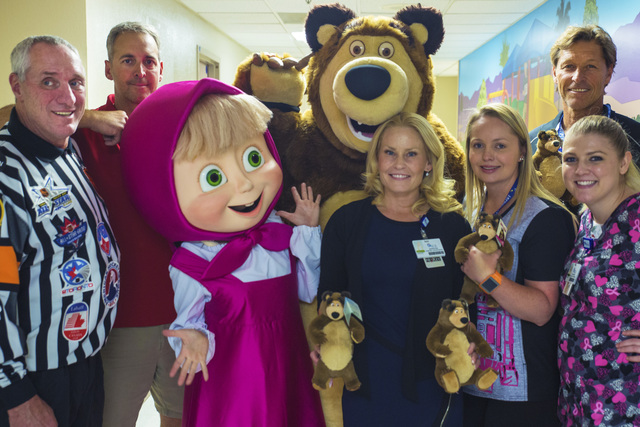 July 1, 2016 - Las Vegas, NV - Patients at the Children's Hospital of Nevada at UNC in Las Vegas got a special surprise as the title characters from the popular children's show Masha and the Bear made a visit. Delivering well wishes on the personalized cards along with stuffed "Bears," the two were accompanied by former NHL player Ron Duguay and former NHL player and official Paul Stewart.
"The Children's Hospital of Nevada at UMC was in for a big surprise with a visit from Masha and the Bear along with some well-known NHL players," said UMC's Erica Nansen, Volunteer Program and Community Relations Supervisor. "They filled up a wagon with DVD's and teddy bears to give out to our littlest patients. The players also brought along photos to sign for the kids. They went room to room, sharing encouraging words receiving smiles in return. It was a moment of pure joy and happiness. The visit brightened everyone's day, both staff and patients. We hope to make this an annual visit".
In all, the group gave out nearly 50 stuffed Bears along with DVDs and get well cards from the characters. Las Vegas was an appropriate venue for the launch of the new initiative as the NHL was in town to host their annual awards and Masha and the Bear were in Las Vegas attending the Licensing Expo at Mandalay Bay.
About Masha and the Bear
The Masha and the Bear animated series is a production of Animaccord Studio in Moscow, Russia. Extremely popular in her home country and Europe, Masha has made her way into the hearts of American viewer on Netflix and YouTube. The show gained over 16 billion views on YouTube in just 5 years, being listed among Top20 most viewed YT videos in history. The series has earned awards for children's programming.
For more information on the visit contact Chuck Borge: (508) 642-3557, or
chuckborge@gmail.com
For more information on Masha and the Bear show please contact Daria Katiba:
katiba@animaccord.com
Email Masha and the Bear Cares