Girard Bengali, APC Announce Opening of Securities and Employment Litigation Firm in Los Angeles, California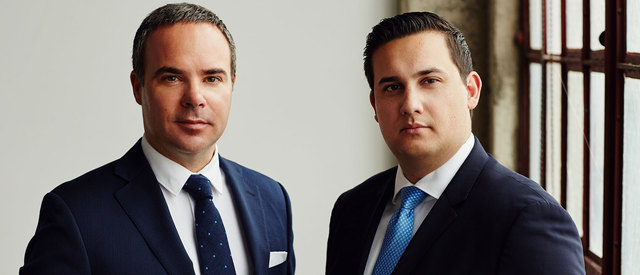 Los Angeles, California, July 5, 2016 - Girard Bengali, APC recently celebrated its opening in Los Angeles, California. Founded on the principles of aggressive advocacy and unparalleled client service, the firm opened its doors on May 2, 2016. The firm specializes in securities arbitration, employment and business litigation, and counseling.
Girard Bengali represents institutional and individual investors, along with financial professionals, in securities litigation in both state and federal courts, as well as in securities arbitrations before FINRA and other forums. The firm has a growing practice representing victims of elder financial abuse, and investigates and pursues claims involving a broad range of financial and investment products, such as stocks, bonds, options, exchange-traded funds (ETFs), private placements, mutual funds, hedge funds, variable annuities, derivatives, and commodities.
Girard Bengali is one of the few firms on the West Coast that represents financial advisors and securities industry professionals in employment-related disputes against the major broker-dealer firms.
"Our firm has a solid understanding of how to navigate through all aspects and challenges associated with securities litigation and arbitration", says founding and managing partner Robert Girard. He added, "We are proud to help each and every one of our clients pursue justice and compensation."
Girard Bengali's employment practice extends well beyond the securities arena. The firm regularly represents and counsels a diverse client base ranging from individuals to large corporations. Moreover, the firm regularly appears on behalf of its clients in state and federal court and at administrative proceedings before the Department of Fair Employment and Housing (DFEH), Equal Employment Opportunity Commission (EEOC), Department of Homeland Security (DHS), Department of Labor (DOL), and similar agencies.
Partner Omar Bengali said, "We enjoy helping individuals, as well as emerging and established companies, maneuver through the ever-changing and complex landscape of state and federal employment laws. We look forward to continuing to provide superior service to our clients."
ABOUT ROBERT GIRARD II
Robert "Bob" Girard II has, for over 15 years, specialized in the area of securities litigation and arbitration at two prominent Los Angeles law firms, where he has built a reputation as a powerful and effective advocate for his clients. Mr. Girard has been successful on a nationwide level in recovering millions of dollars on behalf of his clients from the biggest Wall Street brokerage firms. He has obtained successful verdicts and awards in cases involving claims for suitability, churning, unauthorized trading, breach of fiduciary duty, product failures and other securities-related losses. Mr. Girard was thrice named a Super Lawyers Rising Star by Super Lawyers Magazine and, for the last two years, has been named a Super Lawyer by the same publication, a prestigious designation amongst attorneys.
ABOUT OMAR BENGALI
Omar Bengali's primary practice areas include business, labor and employment litigation and securities arbitration. Mr. Bengali routinely counsels individuals and established companies regarding employment practices, discrimination, harassment and wage and hour issues, and has defended corporations in such matters as retaliation and discrimination suits. He has successfully defended multi-million dollar wrongful foreclosure, breach of contract, and misappropriation of publicity rights claims. Mr. Bengali currently serves as outside General Counsel for several companies, including a large produce distributor located in Southern California and Nevada. In 2016, Mr. Bengali was named by Super Lawyers Magazine as a Rising Star, a designation earned by less than 2.5% of attorneys under the age of forty.
For more information, please visit
http://girardbengali.com
or call (323) 302-8300.