Everton Apartment Complex in Dallas, Texas Reaches New Phase of Construction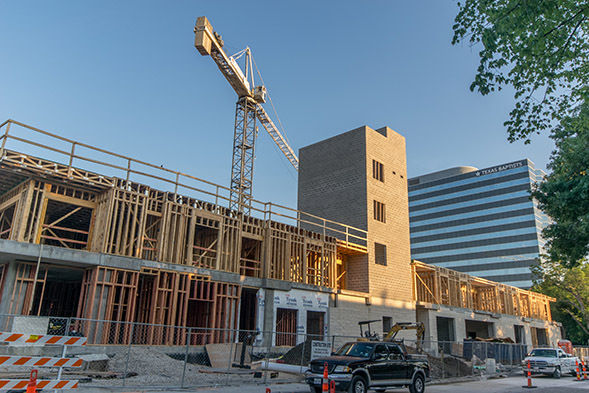 July 8, 2016 - Construction of the new Everton apartment complex has reached a new phase as Bob Moore Construction has begun framing the third floor.
When completed, Everton will be a five-story, luxury multi-family housing facility with a multi-textured exterior and finely finished interiors. It will feature a gated parking garage, clubhouse with coffee lounge, fitness center, a dog run and a large atrium courtyard with a swimming pool. Everton is located on Walnut Hill Lane in Dallas, near the DART rail station and North Central Expressway.
Bob Moore Construction is the general contractor for this project, which is owned by CMC / Commercial Realty Group. Corgan in Dallas, Texas is the architect for Everton Apartments.
"It's exciting to see the building taking shape," said Michael Michalski, Director of Multifamily Projects for Bob Moore Construction. "Now that we've reached this new phase of development, you can really begin to envision how it will ultimately look. It's clear that Everton will be an impressive addition to the Dallas apartment market.
"CMC Commercial Realty Group has done an excellent job of creating a dynamic look and design for Everton Apartments," added Mr. Michalski. "With the remarkable amenities and finish-out that we will build into Everton in the coming months, we believe it will become one of the most popular upscale apartment facilities in Dallas. "
Watch a time lapse video of the Everton construction project at
http://www.generalcontractor.com/Everton
For recent print sized photos of Everton Apartments, now under construction go to
http://www.generalcontractor.com/photos/everton/2016-06-30/
About Bob Moore Construction
A recipient of the QUOIN / AGC General Contractor of the Year Award, the TEXO / AGC Summit Award for Construction Excellence and the Texas Building Branch-AGC Outstanding Construction Award, Bob Moore Construction has been one of the most respected commercial construction companies in Texas since 1946. An industry leader in tilt-up construction, the company was the first general contractor in the United States to be formally certified as a TCA Certified Company by the Tilt-up Concrete Association (TCA). Bob Moore Construction was also one of the first general contractors in North Texas to be accepted into the OSHA Local Partnership program in recognition of its superior safety program. The company's portfolio includes a wide range of commercial buildings, from warehouses and distribution centers to office buildings and retail stores. Whether it is providing general contractor, design / build or construction management services, Bob Moore Construction's goal remains the same: to deliver quality construction projects on time and in budget. Bob Moore Construction is a member of TEXO / Associated General Contractors of America, American Concrete Institute and a sustaining member of the TCA.
Contact:
Bob Moore Construction, Inc.
Jeff Schaefer Marketing Communications Manager
1110 North Watson Road
Arlington, Texas 76011
Email Bob Moore Construction