Thomas Jefferson School of Law Appoints Two New Associate Deans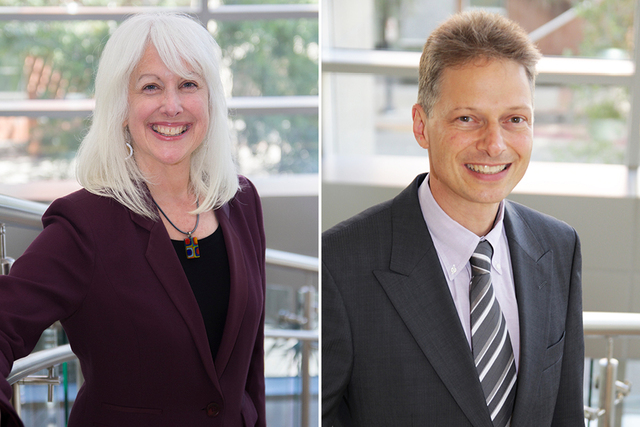 SAN DIEGO, CA, 7/8/16 – Thomas Jefferson School of Law today announced the appointment of two new associate deans. Professor Susan Bisom-Rapp will become the Associate Dean for Faculty Research and Scholarship and Professor Aaron Schwabach will become Associate Dean for Strategic Initiatives. Both appointments begin on August 1, 2016.
"These new positions represent two important parts of the law school's vision of the future: a drive to develop new and innovative programming and a continued commitment to the importance of scholarship relevant to today's profession," said Thomas Jefferson School of Law President and Dean Thomas Guernsey.
Professor Bisom-Rapp is an internationally recognized scholar in the field of comparative workplace law, who has published widely. Her latest book, co-authored with Malcolm Sargeant, is "Lifetime Disadvantage, Discrimination and the Gendered Workforce" (Cambridge University Press, forthcoming 2016). A member of the American Law Institute, she also serves on the Academic Advisory Board of the Marco Biagi Foundation at the University of Modena and Reggio Emilia, Italy, and on the Editorial Board of the Employee Rights and Employment Policy Journal. At the law school, she teaches Torts, Labor Law, and International and Comparative Employment Law, co-directs the Employee Rights Self-Help Clinic, and coordinates the Jameson Crane III Disability and the Law Writing Competition.
Professor Bisom-Rapp, who joined the faculty in 1996 after practicing law in New York City, holds JSD and LLM degrees from Columbia University, where she was a Wien Fellow and received a dissertation grant from the Woodrow Wilson Foundation, a JD from the University of California at Berkeley, from which she graduated Order of the Coif, and a BS from Cornell University.
"Our law school has a very talented and scholarly faculty working on issues with real world implications and impact," said Thomas Jefferson School of Law Professor Bisom-Rapp. "My aim is to increase the profile and visibility of our faculty, create a rich and exciting work environment that recognizes scholarly excellence, and serve and support my colleagues in any way I can."
Professor Schwabach has dedicated his professional career to building and improving Thomas Jefferson School of Law since coming to the law school from the faculty of Gonzaga University School of Law in August of 1994. Since joining the faculty he has taught over two dozen courses and published dozens of scholarly articles and several books. He now teaches Property and Professional Responsibility, in addition to electives. Professor Schwabach has served the law school in various administrative capacities as well over the years. He also serves as a reviewer for the prestigious Fulbright Scholar Program.
He earned his JD from the University of California at Berkeley and received his undergraduate degree from Antioch College in Yellow Springs, Ohio.
"Since coming to Thomas Jefferson School of Law I've had the pleasure of taking part in the law school's upward progress, through ABA accreditation and AALS membership," said Thomas Jefferson School of Law Professor Schwabach. "Now the world of legal education is going through profound changes; as associate dean I hope to assist the school in adapting to these changes and continuing to excel in all areas."
Thomas Jefferson School of Law offers a comprehensive legal education to a nationally-based, diverse student body. The non-profit law school is consistently ranked as one of the most diverse law schools in the nation, with 52 percent of its most recent class being students of color. Located in Downtown San Diego, Thomas Jefferson Law has evolved into an innovative, cutting-edge law school, devoted to the individual needs and success of its students. More information is available at
www.tjsl.edu
.
CONTACT: Thomas Jefferson School of Law Director of Marketing and Communications Edgar Hopida, 619-961-4314 or 619-913-0719,
ehopida@tjsl.edu
Email Thomas Jefferson School of Law