Ridesharing Car Insurance Canada Offering Quick Access to Intact Insurance Uber Coverage in Ontario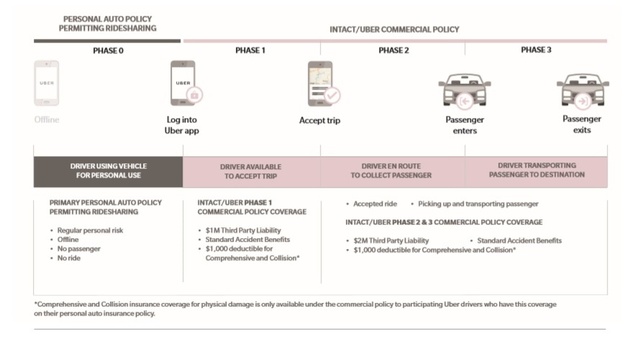 July 9, 2016 - Toronto – Intact Insurance has debuted a new ridesharing car insurance policy in Ontario that gives Uber a dynamic solution for protecting their vehicle and passengers while working for the company. The policy has been approved by the Financial Services Commission of Ontario (FSCO) and is available now. Ridesharing Car Insurance Canada (ridesharingcarinsurace.ca) is giving customers quick and easy access to the policy through its leading quote engine.
Uber drivers in Ontario are now able to operate with full commercial coverage thanks to the interim product from Intact Insurance. Canada's largest P&C provider has been working with Uber since September 2015, developing a solution that would protect drivers and their passengers in Canada. The companies first debuted the solution in Alberta on July 1, and have now expanded the product to Ontario.
The coverage is flexible and easy, making its implementation simple for both customers and brokers, with Intact describing the policy as "innovative" and "tailored".
Ridesharing Car Insurance Canada was one of the first online portals dedicated to providing information on ridesharing coverage in Ontario and beyond. Created by
RDA Insurance
and home to top industry experts, the outlet provides robust information regarding all aspects of Uber and other ridesharing companies in the country.
With its efficient and easy to use quote engines, Ridesharing Car Insurance Canada can give customers the best quote results in less than three minutes. Our
Ridesharing Car Insurance quoting tool
can be used to see the insurance premiums from Intact ridesharing insurance solution.
Ridesharing coverage through Intact Insurance
Intact's Uber-oriented insurance product protects all aspects of the ridesharing experience, covering both drivers, passengers, and third parties. The commercial auto policy is attached to a normal personal auto line from any carrier, and is only activated when an Uber driver begins work.
To make the process simple to understand, Intact has broken it down into four phases (see figure for detail). Essentially, protection starts the moment the driver activates the Uber app to look for a fare, continues all through the passenger process, and ends when the passenger is dropped off. When a driver is not working for Uber, they are covered under the terms of their regular personal auto insurance policy.
"By working directly with Uber we've developed products made for the ridesharing industry that will safeguard consumers who use these services," said Jean-Francois Blais, President, Intact Insurance, adding, "As the popularity of the sharing economy grows, we recognize the changing market that brokers are operating in and we will continue our efforts to deliver products that help meet the evolving needs of your customers."
As well as providing near-instant quotes on ridesharing solutions from Intact Insurance, Ridesharing Car Insurance Canada is also a one-stop shop for information regarding Uber, ridesharing insurance, and news about the ridesharing industry.
To learn more about Intact's coverage, you ca head to the Ridesharing Car Insurance Canada "FAQ" page, or find out the details of the coverage via the "how it works" page.
About Ride Sharing Car Insurance
Ridesharing Car Insurance
is an authoritative website aimed at those searching for Uber and Lyft auto insurance coverage in Ontario. We are insurance industry experts who have a wealth of knowledge and expertise regarding Uber and other ridesharing services such as Lyft, so we can also help you through the process of getting a policy. Our easy to use quote engine can give you a quote on Uber auto insurance in seconds, with quotes from over 25 of Ontario's leading providers.
Email Ridesharing Car Insurance