Mr. John Helps Customers Find the Perfect Porta Potty for Every Event in New eBook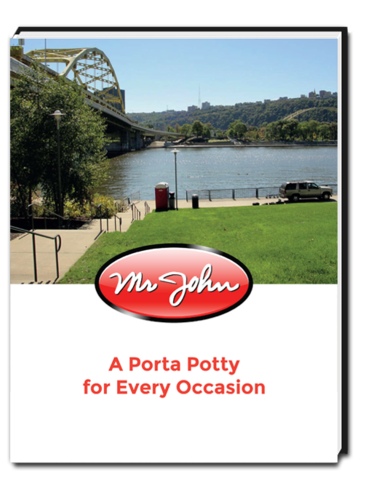 July 12, 2016 - Regardless of what your event may be, it is likely to be a huge failure without proper portable sanitation facilities or porta potties in place. Make sure you know exactly what you need for your next event by downloading the latest eBook from Mr. John.
Depending on the type of event you are holding, the crowd you are expecting and where your event is being held, you may be required to provide special accommodations. When you know what you need upfront, the rest of the planning falls into place a lot easier.
Community and neighborhood festivals are one of the most common events where renting portable sanitation directly affects success. No matter what the cause of celebration, keeping your attendees comfortable should be a top priority. Create an action plan that highlights the needs of your attendees, and don't forget to pay extra special attention to fulfilling any ADA-compliance issues that may arise.
Outdoor weddings are another occasion where renting temporary toilets make a huge amount of sense. You may not think that portable toilets are the right fit for your special day, but modern luxury toilet trailers and VIP toilet rentals are helping to change the way people think about porta potties. Equipped with vanity mirrors, fresh water flushing toilets, and other modern amenities, luxury toilet rentals are exactly what you need to have your guests looking and feeling their finest all day long.
Construction sites are one of the most common places to see portable toilets. In most cases, a standard flushing unit or restroom trailer can provide your site with sanitation solutions where permanent restrooms are not feasible. Specialty construction site units, such as a sling or hi-rise unit, help to accommodate for the unique situations and regulations of a worksite.
Children's Carnivals can be especially tough to plan for. While your carnival is sure to be packed full of fun, games and other attractions for attendees to enjoy, accommodating for the special needs of your younger guests should be a big part of your planning process. Ordering a few family units will help make the day more family-friendly all around.
No matter if your event is big, small, or something different altogether, make sure your sanitation needs are covered top to bottom and download a free copy of our eBook today at
http://www.mrjohnpit.com/temporary-sanitation/
.
About Mr. John
Family owned and operated since 1964, Mr. John is the leading portable restroom operator in Western Pennsylvania, Eastern Ohio and West Virginia. Whether you need a construction site portable toilet, restroom trailers and VIP bathrooms for an upscale party, or flush units for a large special event, Mr. John's diverse fleet and experienced staff will help make it a success. Find out more about how we can help your next event by visiting
www.mrjohnpit.com
.