Bob Moore Construction Breaks Ground on New Distribution Center for TTI, Inc.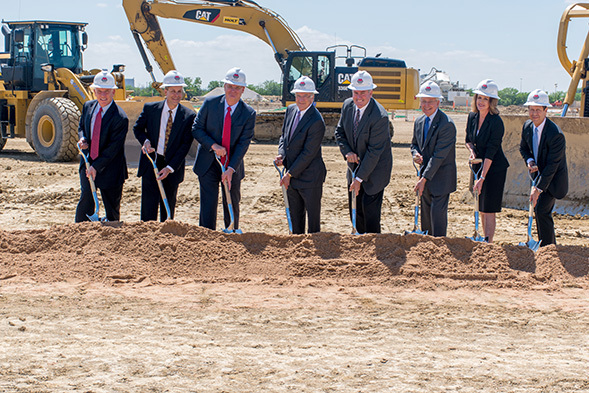 July 18, 2016 - Bob Moore Construction has broken ground on the new 610,000 SF distribution center for TTI, Inc. in Fort Worth's Mercantile Center Business Park.
In June, TTI celebrated the beginning of their new building's construction with a groundbreaking ceremony. Participating in the ceremony were members of the leadership teams for TTI and Bob Moore Construction, including Paul Andrews, TTI CEO, and Ed McGuire, President of Bob Moore Construction.
The new TTI facility will house the company's North American warehouse, assembly, and distribution facilities. The space will feature an extensive picking system with conveyors, pick modules, racking systems and a three-level carousel platform.
The building will provide space for office and employee facilities and will include a fitness/exercise room and multiple break areas.
The new building will be built with tilt-up construction. The entire facility, including the distribution area, will be heated and air-conditioned by a central plant to maintain consistent temperature throughout the building.
Surrounding the facility will be extensive paving for truck lanes and courts, and 500 employee parking spaces, with a stacked block retaining wall along the north side of the property.
Bob Moore Construction's selection to build the TTI facility follows successful projects the general contractor delivered for Mouser Electronics, a subsidiary of TTI. The expansion of Mouser's headquarters in Mansfield earned Bob Moore Construction regional and state awards from the Association of General Contractors of America.
"Our team with Bob Moore Construction is very excited to build the new TTI facility," said Mr. McGuire. "Every element of this building is optimized for top quality, newest technology and maximum efficiency. When this project is finished, TTI will have one of the most technologically advanced distribution centers in North Texas."
About Bob Moore Construction
A recipient of the QUOIN / AGC General Contractor of the Year Award, the TEXO / AGC Summit Award for Construction Excellence and the Texas Building Branch-AGC Outstanding Construction Award, Bob Moore Construction has been one of the most respected commercial construction companies in Texas since 1946. An industry leader in tilt-up construction, the company was the first general contractor in the United States to be formally certified as a TCA Certified Company by the Tilt-up Concrete Association (TCA). Bob Moore Construction was also one of the first general contractors in North Texas to be accepted into the OSHA Local Partnership program in recognition of its superior safety program. The company's portfolio includes a wide range of commercial buildings, from warehouses and distribution centers to office buildings and retail stores. Whether it is providing general contractor, design / build or construction management services, Bob Moore Construction's goal remains the same: to deliver quality construction projects on time and in budget. Bob Moore Construction is a member of TEXO / Associated General Contractors of America, American Concrete Institute and a sustaining member of the TCA.
Contact:
Bob Moore Construction, Inc.
Jeff Schaefer
Marketing Communications Manager
1110 North Watson Road
Arlington, Texas 76011
jschaefer@generalcontractor.com
Phone: (817) 640-1200
Fax: (817) 640-1250
http://www.GeneralContractor.com/
Email Bob Moore Construction