First Transit Wins the 2016 Excellence in Action Award from Infor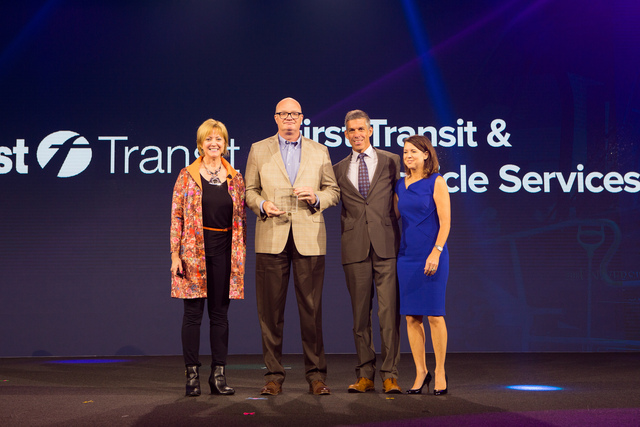 July 19, 2016 - NEW YORK – First Transit announces that the company has won the 2016 Infor Excellence in Action Award. The award honors companies who showcase exceptional results in business performance after implementing Infor applications and services.
First Transit realized significant improvements in technician productivity and the number of scheduled jobs for maintenance teams after implementing Infor software at several maintenance locations.
"We are proud to be the recipient of the 2016 Infor Excellence in Action Award," said Todd Hawkins, senior vice president of maintenance for First Transit. "The Infor software is a tool that allows us to get buses and fleet cars back on the road faster for our agency partners."
First Transit was one of nine winners chosen across different industries by Infor based on the scope of performance improvement, business benefits, customer focus and satisfaction, and technology use and innovation. A panel of Infor industry and product experts evaluated each applicant's nomination based on their ability to demonstrate new processes and tactics that were deployed using Infor technology.
About First Transit:
First Transit, Inc. has 60 years of experience and is one of the leading providers of transportation contract and management services in North America, moving more than 350 million passengers annually. First Transit, Inc. provides operation, management and consulting for more than 300 locations in 39 states, Canada, Puerto Rico and Panama for transit authorities, state departments of transportation, municipalities, hospitals, universities and private companies. First Transit employs more than 19,000 dedicated transit professionals. For additional information, please visit
FirstTransit.com
.
About Infor:
Infor builds beautiful business applications with last mile functionality and scientific insights for select industries delivered as a cloud service. With 14,000 employees and customers in more than 200 countries and territories, Infor automates critical processes for industries including healthcare, manufacturing, fashion, wholesale distribution, hospitality, retail, and public sector. Infor software helps eliminate the need for costly customization through embedded deep industry domain expertise. Headquartered in New York City, Infor is also home to one of the largest creative agencies in Manhattan, Hook & Loop, focused on delivering a user experience that is fun and engaging. Infor deploys its cloud applications primarily on the Amazon Web Services cloud and open source platforms. To learn more about Infor, please visit
www.infor.com
.