Mr. John Details Some Shocking Facts About Hand Washing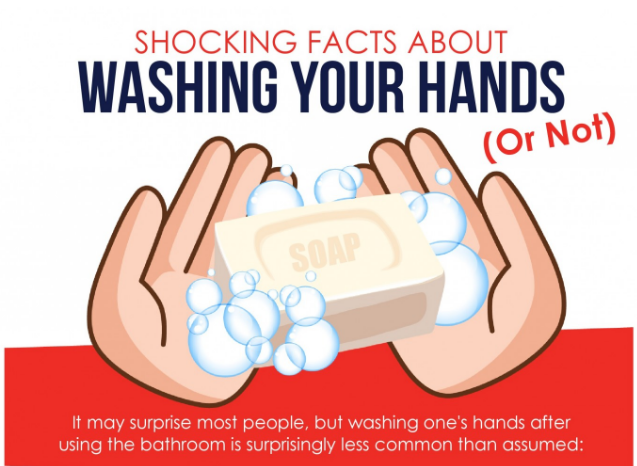 August 3, 2016 - Washing hands is far less common than you might think. About 20% of the general public doesn't wash their hands at all after using the restroom, and only 1 in 20 people wash their hands with soap for 15 seconds or more.
If that isn't enough to give your personal hygiene habits a second thought, the portable sanitation providers at Mr. John have outlined over a dozen shocking facts about washing your hands in their latest infographic.
Proper handwashing technique is one of the most effective ways to prevent the spread of infections, illness and disease-carrying bacteria. Even if there isn't a bathroom on-site, event organizers need to find a way to keep their event safe & sanitary. Portable handwashing stations and toilet rentals are a great way to reduce your risk while keeping guests healthy & happy.
While most people wash their hands with water, handwashing is even more effective when soap is used. Using soap can cut the possibility of spreading infection by almost 75%. However, it's important that you pay close attention to the soap you are using. Soaps advertised as 'anti-bacterial' may have an adverse effect, as it may contribute to antibiotic resistance and make illnesses spread even faster.
There are ways to keep an event safe and sanitary even when water isn't available. While it isn't nearly as effective as soap and water, an alcohol-based hand sanitizer can be used as a substitution. Look for a sanitizer that contains at least 60% alcohol, and you can quickly reduce the amount of germs on hands in most situations.
If you want stay healthy and prevent the spread of illness, there is no substitution for proper handwashing technique. Uncover more shocking facts about washing your hands and check out the infographic from Mr. John at
https://www.mrjohnpit.com/shocking-facts-about-washing-your-hands-or-not-2/
.
About Mr. John
Family owned and operated since 1964, Mr. John is the leading portable restroom operator in Western Pennsylvania, Eastern Ohio and West Virginia. Whether you need a construction site portable toilet, restroom trailers and VIP bathrooms for an upscale party, or flush units for a large special event, Mr. John's diverse fleet and experienced staff will help make it a success. Find out more about how we can help your next event by visiting
www.mrjohnpit.com
.