Renovo Water Unveils New Adaptable Water Filter at Outdoor Retailer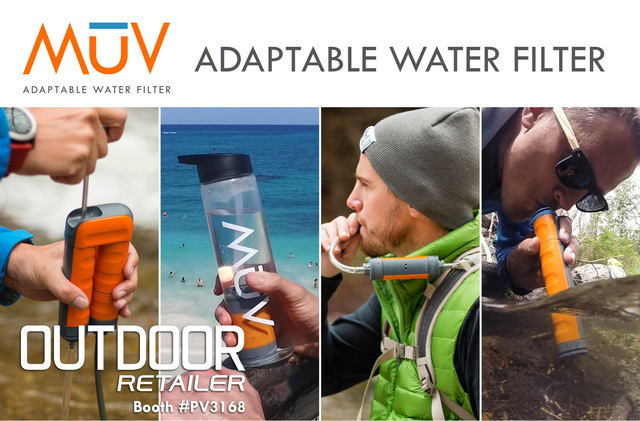 August 3, 2016 - Renovo Water introduced their new water filter, MUV, to the crowds at Outdoor Retailer Summer Trade Show. Outdoor Retailer, generally referred to as OR, is the outdoor industry's largest gathering of manufacturers, brands, buyers, and retailers.
"We are so excited to show MUV to the attendees at OR," says Daniel Beck, President of Renovo Water. "More than doubling our Kickstarter funding two months ago shows that there is a market for MUV and where better to introduce MUV than at OR?"
MUV is an adaptable water filter that puts a new twist on the way you use a water filter. Most water filters on the market are a single filter medium. While this is good for most backcountry water in North America, these filters don't remove chemicals, pesticides, heavy metals, or viruses from the water. MUV is a 3-stage filter that can be customized to protect you from the contaminants in any water source you come across. MUV makes it possible to filter your tap water and remove chemicals and metals, but it also goes to the opposite extreme and allows you to filter bacteria, protozoan cysts, and viruses.
"We feel the outdoor industry will really gravitate towards MUV," says Kirk Sample, Renovo Water's Marketing Manager. "People in the outdoor space are active in many different sports. They tend to hike, camp, bike, climb, kayak, etc. and they need a water filter that adapts to the activity. MUV allows them to do this with one filter instead of buying many different filters."
Renovo Water just returned from the OutDoor Show in Friedrichshafen Germany where they were able to introduce MUV to European distributors and retailers.
"We are very excited about the response we received from the European market," says Kirk Sample. "Water is a very critical issue for most European's and they are excited to have a single filter that will take care of all their drinking water needs. Whether at home in the city or backpacking in the Alps, they only need MUV."
MUV is expected to be available late 2016. You can learn more about MUV on their website
www.renovowater.com
or visit the Renovo Water booth (#PV3168) at OR.
Based in Utah, Renovo Water's team is made up of outdoor adventurers experienced in drinking backcountry water. Unsatisfied with current water filters on the market, they spent three years developing, designing, and testing to create a water filter that meets the needs of every type of adventurer and stands the test of time to deliver clean, safe water with every use. For more information on Renovo Water, visit RenovoWater.com