DevHub launches Labs; an experiment in scale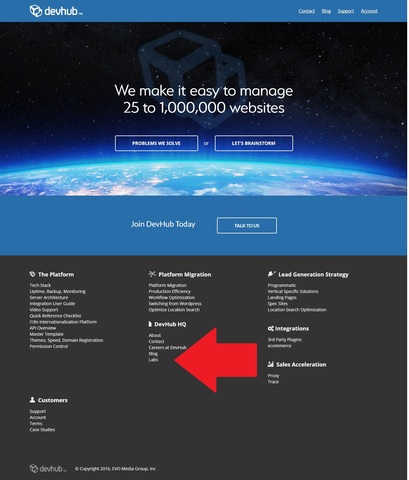 August 5, 2016 -
DevHub
a bold platform for managing entire web experiences in one place announced today the launch of
DevHub Labs
(DL for short).
"DL is a direct result of working with millions of small businesses and channeling millions of marketing campaign dollars through our global agency, national brand, media company, and ad agency customers," explained Mark Michael co-Founder of DevHub.
DevHub
empowers designer, developer, and production teams to build foundational experiences i.e. websites, landing pages, mobile sites etc at scale. Our community continues to innovate allowing DevHub to be the safest and easiest way to manage web experiences en masse.
"We found that over 44% of small businesses do not have a responsive/ mobile site. Those that do primarily rely on form fills, map directions or phone calls. One vertical that was of interest to us is restaurants. We power thousands of restaurant sites via DevHub everyday, explained Mark Michael.
However, we believe that texting a businesses is a more effective way to communicate.
One way we want to test this theory…is allow all 1000+ restaurants in Seattle the option to be texted in the next 72 hours to gleam insight into how many of their customers would prefer to interact via text versus apps or standard calling.
"DevHub Labs allows us to experiment and not get into too much trouble," Mark Michael said with a smile.
Other experiment(s) in DevHub Labs are company rankings of the markets in which
DevHub competes
.