"The Little Prince" album now streaming on Google Play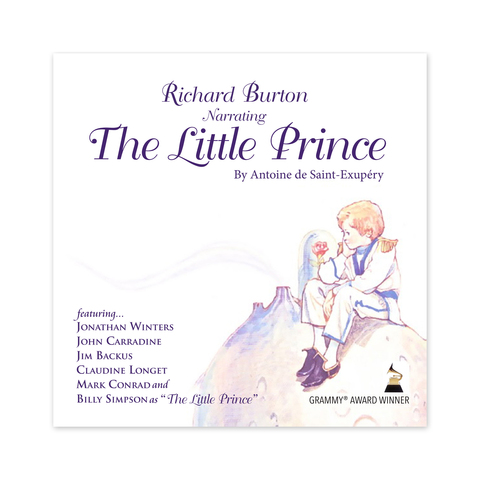 August 5, 2016 - Grammy Award-Winner "Best Children's Recording" "The Little Prince"
narrated by Richard Burton is now streaming on
Google Play
. This most beloved and celebrated recording of the Antoine de Saint-Exupery classic story, based on the original 1943 Katherine Woods translation, captures the timeless wisdom and charm of the iconic characters created by the world-renowned author. The one-hour abridged presentation, with sparkling music score, also features Jonathan Winters, John Carradine, Jim Backus, Claudine Longet, Mark Conrad, and Billy Simpson as The Little Prince.
Praise for the rdkRecords' Grammy Award-Winning album includes: "Best Children's Recording" …NATIONAL ACADEMY OF RECORDING ARTS & SCIENCES; "One of the most treasurable audio recordings ever made" …LOS ANGELES TIMES CALENDAR; "A Parents' Choice Classic" …PARENTS' CHOICE FOUNDATION; and "An amazing cast of performers" … WGBH CLASSICAL RADIO, BOSTON, among its many stellar accolades and reviews.
The poignant, life-and-death odyssey offers timeless lessons when The Little Prince miraculously appears in the Sahara desert and befriends a downed Aviator. Disillusioned by his encounters with grownups, The Little Prince is comforted when he tames a Fox who tells him: "It is only with the heart that one can see rightly; what is essential is invisible to the eye."
Stream or download on Google Play
:
https://play.google.com/store/music/album/Richard_Burton_The_Little_Prince?id=Bkrqmpn5tz2iig7l6otggnouu7a
Download on iTunes:
https://itunes.apple.com/album/id1129519980?ls=1&app=itunes
"Like" The Little Prince on Facebook:
https://www.facebook.com/thelittleprincealbum/
Visit:
www.thelittleprince.net
Watch The Little Prince & The Fox on YouTube:
https://www.youtube.com/watch?v=nbb8jtQ54tA
Email Selfman & Others Public Relations