ConsuNova offers new Executive Gap Analysis, optimized to discover DO-178C and DO-254 certification Gaps with practical Roadmap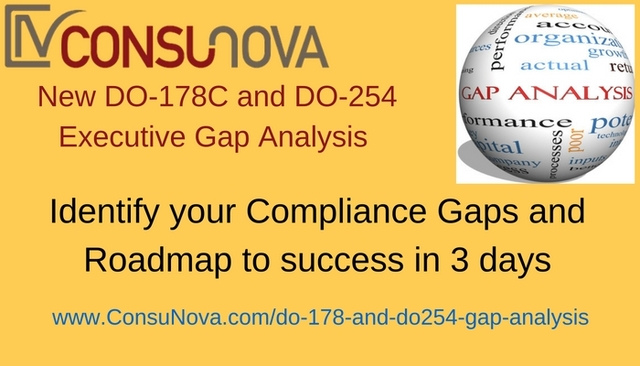 August 8, 2016 - Do you have undefined risks related to certification or compliance? Moving a product from DAL D to DAL B or A? Don't know what a DAL is but need to understand the implications quickly? ConsuNova's
Executive Gap Analysis
is optimized to provide the practical answers you need, in 3 days and at a lower cost than ever. The modern pace of business and product development doesn't always allow for multiple weeks of analysis and encyclopedic reports to answer the pressing questions of, "How long?" and, "How much?" ConsuNova has refined the Executive Gap Analysis process to focus on the critical questions, define and explain relevant "gaps", present recommendations, practical solutions and actionable plans that should be incorporated into your project for successful execution.
Reza Madjidi, ConsuNova President adds "As the original creator of the DO-178B Gap Analysis and reporting format in 2005, we are happy to share our recent effective methodology to all avionics projects pursuing DO-178/254 certification. Since 2014, our team has successfully delivered 30+ DO-178 or DO-254 Executive Gap Analyses. All customers have benefited from this new approach and have been able to not only identify the gaps in short time, but also have a clear compliance schedule and budget to efficiently reach their certification goals with the practical details needed."
ConsuNova's Executive Gap Analysis includes:
Detailed yet optimized analysis of your organization and engineering processes
Interviews with key, internal stakeholders to assess capability
Efficient analysis of current status vs. DO-178C or DO-254 using proprietary process and tools
The Executive Gap Analysis Report will answer the following DO-178 or DO-254 critical questions:
Where am I and where do I need to go? (Compliance Gaps and "DO" understanding)
How do I get there? (Compliance RoadMap)
How long is it going to take? (Compliance Schedule)
How much is it going to cost? (Compliance Gaps)
Are the tools qualifiable? How about the COTS? Can they be used in DO-178C or DO-254 project? (Compliance Tools and COTS)
With this release and to celebrate a significant milestone, ConsuNova is offering a 31% discount to its' 31st Gap Analysis customer in either the Executive or Comprehensive format.
To schedule your Executive Gap Analysis, contact ConsuNova, Inc. Alternatively, Click here: https://www.consunova.com/do-178-and-do254-gap-analysis and enter, "Gap#31" in the notes section to take advantage of the 31% price reduction opportunity.
Each Gap Analysis can be augmented by any of our
Training Topics
(
https://www.consunova.com/do178-training
)
About ConsuNova
ConsuNova is a global provider of compliance or certification engineering services, enabling tools and solutions to the commercial and military aerospace markets (
https://www.consunova.com
). ConsuNova provides ARP 4761, ARP 4754A, DO-200A, DO-254, and DO-178C compliant solutions faster and with optimal efficiency. ConsuNova brings together valuable experience to deliver free technical whitepapers in various safety-critical standards and industry domains. See
DO-178 whitepapers
and
DO-254 whitepapers
for specific related standards.