GreenRope Makes CRM a Breeze with WalkMe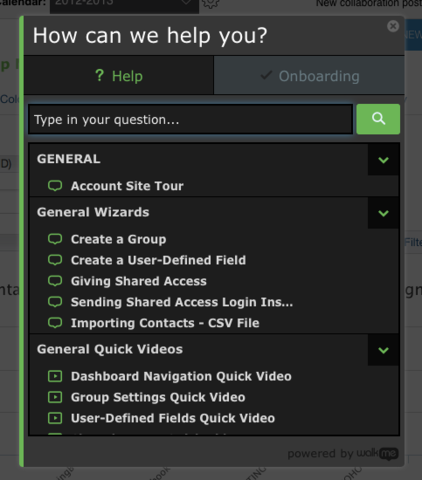 SAN DIEGO, CALIFORNIA – August 13, 2016 –
GreenRope, a leading CRM and marketing automation platform, just announced the launch of their newest onboarding and training program, powered by WalkMe. WalkMe is a online guidance platform built to help businesses enhance their user experiences instantly. The new self-guided wizard will help both new and current users learn how to best use the system and provide them with how-to documentation as they move through the platform.
"WalkMe empowers users to take an active and engaged approached to the onboarding process," explains Melissa Riba, GreenRope's Onboarding Manager. Melissa was in charge of designing the program and coordinating the guided process.
Using WalkMe for GreenRope's onboarding trainer significantly enhances the user experience, making it simple for new clients to navigate around their new CRM and marketing automation platform. Introducing WalkMe as an experience enhancer will not only accelerate training and onboarding, but increase revenue and user adoption.
"CRM is not a one-step process," says Marketing Manager, Alessandra Ceresa. "We want to make the transition to a new platform seamless, simple, and highly intuitive. WalkMe will provide our new users with step-by-step instructions on where things are in their GreenRope account and walk them through setting it up properly from the get-go."
Success comes from excellent customer experiences, and GreenRope's just got a lot better. New users will be greeted and guided the minute they open a GreenRope account. This puts the control in their hands to start properly implementing the platform and setting it up for victory. Users are focused, provided realtime support, how-to guides, and more.
About GreenRope
Lars Helgeson, who saw the need to make running a small to mid-sized business easier and more efficient, founded GreenRope. GreenRope's mission is to resolve the challenges of managing business operations by providing a cloud-based integrated software that is effective, affordable, and user friendly. GreenRope streamlines key operations, including e-commerce and accounting, CRM, email marketing, mobile marketing, calendaring, websites, social media, and more, into one easy-to-use platform. By using GreenRope, companies can reduce their marketing and CRM software expenses by an estimated 80%. GreenRope's affordable pricing plans start as low as $149/month. Visit
www.greenrope.com
for more information.