WBT Systems Enhances Social Learning for Professionals with Latest TopClass LMS Release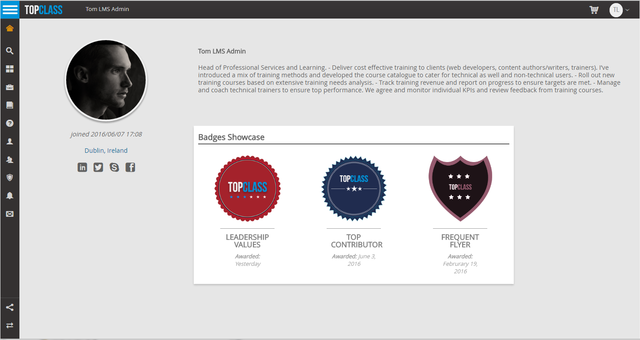 August 11, 2016 - With the latest release of the TopClass Learning Management System, WBT Systems expands the social learning capabilities of their comprehensive and flexible learning platform for associations, training organizations and extended enterprise. Building on increasing demand for social and mobile learning experiences, the new TopClass 10 features focus on making participation more rewarding for professional learners and simplifying the delivery of learning for administrators.
TopClass 10 extends the existing social learning capabilities of
TopClass LMS
with the introduction of enhanced learner profiles and digital badges with full
OpenBadges
compatibility. Organizations can now design and share badges in TopClass LMS to reward participation and learning achievements for members. Learners can display badges earned in TopClass LMS and external badges on the enhanced user profile and share to their Mozilla OpenBadges online backpack.
Incorporating Client Feedback in Development
WBT Systems developed these new features based on the feedback of current clients, who were offered the opportunity to provide input into the design and functionality. Commenting on this process, WBT Systems Chief Technology Officer, Linda Bowers said, "
Working together with our clients to define the design of the new features was enjoyable and enlightening. Ultimately it helps us to ensure that TopClass LMS provides a more relevant and useful experience for both learners and administrators. We look forward to working closely with our clients on future updates to TopClass.
"
Other key examples of how TopClass 10 LMS provides a comprehensive and flexible platform for the changing education needs of modern organizations include:
Experience API Support
– Also known as xAPI or TinCan, Experience API support allows learners to record external learning activities they have completed on their user profile, transcript, and to share outside the LMS to their social learning networks. Administrators benefit from deeper insight on learner progress and performance, and reliable course delivery on the widest range of devices.
Streamlined User Experience
– A modern, clean interface for the user management menu and new integrated product tours streamline the setup process to make getting started with TopClass even easier for learning administrators. The new at-a-glance layout makes it easy to find what you need to set up groups, users and courses; providing helpful resources at your fingertips.
For those wanting to see a live demonstration of the new TopClass 10, WBT Systems will be exhibiting at the
ASAE 2016 Annual Meeting and Exposition
in Salt Lake City from August 14-15. Attendees are encouraged to stop by
booth 515
to see TopClass 10 in action.
About WBT Systems and TopClass LMS:
WBT Systems is a leading provider of learning solutions across the globe, helping Associations and non-profit organizations to build and improve their education and certification programs since 1995. WBT provides TopClass, the flexible learning platform, which was recently named as the #1 Association LMS*. TopClass is an intuitive, complete and proven Learning Management System that evolves with our customers' organizations. TopClass has over 5 million users and is used in 20 languages across 23 countries. Many of WBT Systems' customers have grown with the company over our 20 years in business, due to our experienced team, excellent implementation track record and flexibility in all we do: approach, product, pricing and services. For more information, please visit
www.wbtsystems.com
.
*TopClass LMS was rated the #1 Learning Management System for Associations by Talented Learning, an independent news, research and consulting organization dedicated to the advancement of all aspects of extended enterprise learning technology solutions.
Email WBT Systems Limited