'The Island' a novel by Patricia Mahon is Finalist in Readers' Favorite 2016 International Book Awards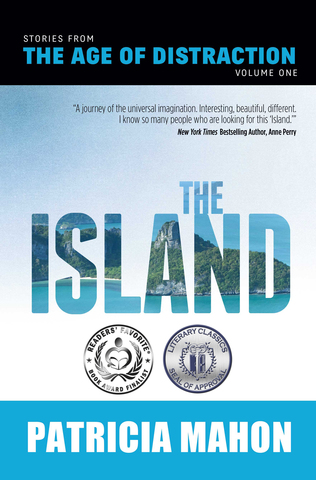 September 8, 2016 - Volume One of Patricia Mahon's Stories from the Age of Distraction: "The Island" is an Award Finalist in Readers' Favorite 2016 International Book Award in the Fiction Category and will be honored at their annual awards ceremony in Miami in October.
'The Island' is a book about technology, relationships, modern communication, classic literature and storytelling. It is a highly original narrative about two friends —- a school teacher and a writer —- that invent a global storytelling 'app' in the hopes of getting the world to invent, dream, imagine and tell stories again.
"Stories are the familiar shoes we wear on our long walks through common experience. Since the beginning of time, storytellers have helped to catalog and preserve the human condition. They have held the power of memory, familiarity, and wistfulness over our collective consciousness. The storyteller describes, imparts, paints, and portrays the world with the precision of a timeless artisan."
Imagine a crowdsourced novel, a global E-book, a communication renaissance and a real-time story platform where the world re-engages with language and with each other?
'The Island' traverses the globe as it addresses the loss of human focus and explores the emerging themes of virtual reality and artificial intelligence. It is a story within a story infused with classic literature that unfolds in real-time as the world writes a captivating and soul-searching Ebook.
The fast-moving places and faces of 'The Island' feature gamblers, surfers, dress-makers and dreamers who journey across CA, Bolivia, and Brazil. They are accompanied by the voices of our global literary past: Wordsworth, Melville, Shakespeare, Yeats, Kafka, Neruda, Nabokov, Einstein, Hugo, and Whitman who echo throughout the narrative. As the lines between virtual reality and actuality get blurred, our heroes find themselves on a remote island in the South Atlantic (Ilha do Mel). It is the perfect ecosystem and an ideal place to stop, take inventory, embrace nature, confirm reality, and come face to face with those things that make stories so timeless and the desire to tell them so universal.
Ultimately 'The Island' sets out to re-engage and re-connect us —- to make us pick our heads up from our devices and notice one another again. It is a literary attempt to save us from modern distraction and from ourselves. It is a small book with an immense message that stays with the reader long after the final chapter.
Readers' Favorite is a highly respected book review and award contest site. It focuses on authors, readers, publishers and agents and has earned the respect of famed publishing houses including Simon & Schuster, Harper Collins and Random House. The annual award contest features worldwide entries by NYT best-sellers as well as international celebrities.
'The Island' by Patricia Mahon is available on Amazon, Barnes & Noble, Target and wherever books are sold.
https://www.amazon.com/Island-One-Stories-Age-Distraction/dp/1939454654/ref=sr_1_1?ie=UTF8&qid=1473225729&sr=8-1&keywords=the+island+mahon
Email Outsource Marketing Group, Inc.